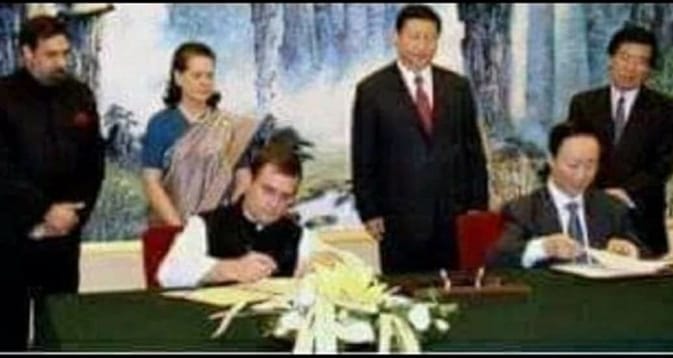 New Delhi: On August 7, 2008 Rahul Gandhi, General Secretary of the Indian National Congress (INC) and Wang Jiarui, Director, International Liaison Department of the Communist Party of China (CPC) signed a Memorandum of Understanding (MoU) in the presence of the President of INC Sonia Gandhi who was also the Chairperson of United Progressive Alliance (UPA) I at that time, President of China, Xi Jinping who was then the Vice-President of China and Congress leader Anand Sharma.
The contents of this  MoU with the Communist Party of China has never been made public by the Indian National Congress. Sonia Gandhi had spoken very briefly about the MoU with CPC in a written interview with Chinese news agency Xinhua in 2011 but has never openly spoken about this MoU with the media in India.
Twelve years later, on August 7, 2020, a bench headed by Chief Justice S A Bobde hearing a petition filed by  Advocate Shashank Shekhar Jha and GoaChronicle.com, Founder & Editor-in-Chief, Savio Rodrigues observed while expressing shock, "We find that there is something which appears to be, what might be called, unheard of and absurd in law. You are saying that China has entered into an agreement with a political party and not the government. How can a political party enter into an agreement with China."
"Within our limited experience, we have unheard of it that a political party is making an agreement with other country. Every relief which you are seeking, can be granted by the high court. Secondly, high court is a proper court. Thirdly, we will have the advantage of high court order also," said the bench which also comprised Justices A S Bopanna and V Ramasubramanian told senior learned counsel Mahesh Jethmalini who was appearing for the petitioners.
Supreme Court in the hearing conducted through video conferencing, allowed the petitioners to "withdraw the petition with liberty to approach the high court."