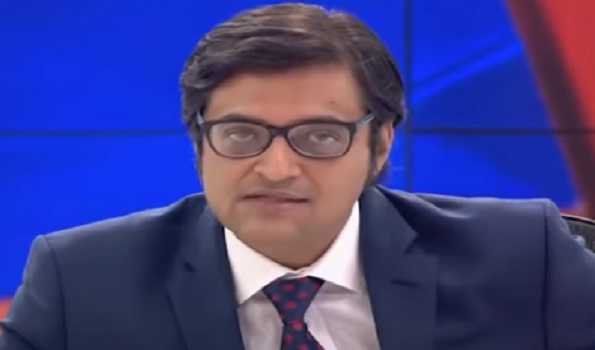 Mumbai: The lawyers of Arnab Goswami, Editor-in-Chief of Republic Media Network has issued a legal notice to The Indian Express asking the media publication to cease and desist from reporting such misleading, fake, unsubstantiated, false and unverified news in the print and digital media, and other social media platforms and to remove the existing false news report published by you as mentioned above from all mediums and to publish an unconditional apology for their misleading reports.
The notice has been issued to the Editor of The Indian Express Raj Kamal Jha, Mohammad Thaver and Krishn Kaushik.
The notice broadly states, "It is notice to cease and desist from reporting fake, unsubstantiated, false and unverified news against Republic TV in respect of the alleged TRP scam being investigated by the Mumbai Police; remove the false news report from all mediums; and to publish an unconditional apology to Republic TV for reporting such false and fake stories and issue a corrigendum clarifying the correct facts, in all print and digital media, and other social media platforms."
The notice also raises the question of misleading reports stating, "We are constrained to issue this notice in view of your false news report mischievously titled, "Arnab Goswami paid me $12,000 and Rs 40 lakh to fix ratings: Partho Dasgupta" published and reported on 25 January 2021 in the Indian Express, digital and print media, and other social media platforms. The news report is a part of a mala fide, vicious and vexatious campaign to tarnish the reputation of our client. Despite the pendency of the matter before a court of law, which is well known to you, the above news report has attributed guilt to our client in relation to the alleged TRP scam. The news report has sought to impute guilt on our client without paying any heed to the true facts and to the indeterminacy of the issues and pending court action by our client before the Hon'ble Bombay High Court. The news report has alleged that the former BARC CEO, Mr. Partho Dasgupta has stated:
I worked with my team to ensure manipulation of TRP ratings that made Republic TV get number 1 rating. This would have continued from 2017 to 2019. Towards this, in 2017 Arnab Goswami had personally met me at St Regis hotel, Lower Parel and given me 6000 dollars cash for my France and Switzerland family trip…also in 2019 Arnab Goswami had personally met me at St Regis and given me 6000 dollars for my Sweden and Denmark family trip. Also in 2017, Goswami had personally met me at ITC Parel hotel and given me Rs 20 lakh cash… also in 2018 and 2019… Goswami met me at ITC hotel Parel and gave me Rs 10 lakhs each time…
The very headline of your news report would mislead any reader into wrongly believing that, as a matter of fact, payments were made by our client, Mr. Goswami to Mr. Partho Dasgupta. Such a headline is squarely deliberate and mischievous. Furthermore, the news report then deliberately omits to mention that the above statement was extracted by the Mumbai police from Mr. Partho Dasgupta under coercion and duress, is inadmissible in law, and has already been denied by Mr. Dasgupta himself. The news report is a vile, hateful, malicious attempt by you and part of a severely prejudicial campaign engineered and implemented by the Indian Express against our clients and aimed at attempting to irreparably destroy their reputation as well as the reputation of the Republic Media network. Through your defamatory news report, you have spun a false narrative of prejudice against our clients in complete breach of ethics, morality, integrity and journalistic duties. The malicious intent is to further your own corporate/commercial interests by defaming our clients.
You have acted as a judge, jury and executioner in breach of all journalistic ethics and against the well-settled law. By concealing material facts, pronouncing our client guilty of TRP manipulation, even though the matter is pending investigation and is also sub judice, your assertions amount to criminal contempt of court and, it appears, that these are intended to further your own commercial and corporate interests through sensationalism at the cost of our clients' reputation, and presumably to divert attention away from fact that the BARC audit report of July 2020 points towards the guilt of another channel. Your actions are aimed to discredit a senior journalist, run-down a legitimate and established media house and ensure unfair and undue personal gains in the process."
The notice further advised The Indian Express that in the event they fail to comply with this notice, they shall render themselves jointly and severally liable to face appropriate civil as well as criminal proceedings under the relevant provisions of law at their risk as to cost and consequences.