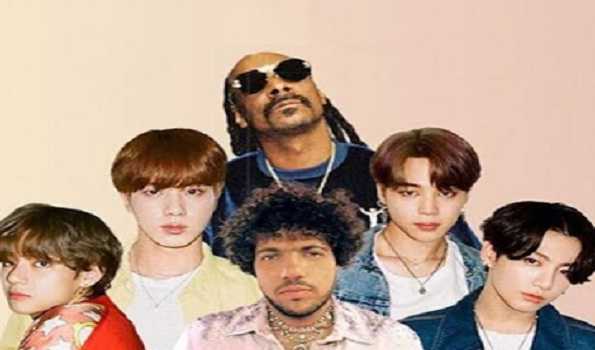 New Delhi: Not bad at all, in fact Benny Blanco's decision to get the BTS vocal line along with American singer Snoop Dogg seems to be the next best thing for ARMY just can't seem to get enough of the Souh Korean superband who are ready to experiment.
Fans welcomed Blanco enlisting Snoop and BTS members Jin, Jimin, V and Jung Kook for his new single that will appear on the producer's upcoming third album later this year, with 31 lakh views in four hours.
"Despite the title implying unwelcome choices, the song is a euphoric, flirty dance track, with the artists declaring they want to be with the one they desire 'all of the time' — and as Snoop explains on his verse, 'it's bad meaning bad, like bad meaning good', said the rollingstone.com
Blanco seems to have pitched in as dream ARMY, almost fulfilling the fandom's craving for their boys in every shot. Clearly it is a dream situation for all ARMY who are yet to the septet in their country, including the Indian ARMY.
Snoop features in the video but there are no visuals of the BTS members. There are only snippets from older music videos and some still photos, leaving fans asking for more.
However, the BTS vocal line hook has taken the Internet by storm: "If you want my love/Come a little bit closer/Don't make me wait/Let's make some bad decisions/I want you, oh baby, all of the time/So give me all your kisses/I want you Monday, Tuesday, Wednesday, baby, every night."
Snoop's lines are also punctuated with BTS' buoyant "Oh yeah" refrains.
The track marks Blanco's second time working with the Kpop group after releasing a medley remixing three of their singles earlier this year.
In teasers to "Bad Decisions" we saw Blanco wanting to be the eighth member, but of course that was not encouraged by the boys and he in the new video is quintessential ARMY.
Dedicated Fan handles on Twitter claimed #BadDecisions' has reached 40 #1's on iTunes Worldwide!, including in Canada, Finland, Malaysia, Phillipines, Romania, Saudi Arabia, Singapore, Thailand, Poland, Panama, Egypt, Nepal.
Jungkook singing "Let's make some bad decisions", swept ARMY off their feet even as Jimin's drooling eyes left many a heart fluttering.
The golden maknae, who has suddenly created a drought with his vanishing act from VLive and posts ahead of his September 1 birthday, made a fan say "I don't know what I was expecting but that was… that was wild. Also so relatable", as he sang the lines teasing his fandom.
Another wrote: "Bad Decisions is so good from the MV, the lyrics, BTS amazing vocals, Benny Blanco representing all ARMYs to Snoop Dogg's rap! this is a bop!"
In the Ben Sinclair-directed video, Blanco finds himself overexcited as he prepares for an upcoming BTS concert.
Many an ARMY related to him completely as he was seen in the video learning dance routines, baking cakes, preparing ahead of the concert.
He gets stuck in LA traffic and with the show's start time approaching, Blanco abandons his car to dash to the stadium — only to find the show takes place the following day.
Earlier in the year, Blanco mashed up remixes of the group's "Fake Love," "Life Goes On," and "Blood Sweat and Tears", in the run up to his album.
He is famous for working with Justin Bieber, Katy Perry, Kesha among others — but his first track with BTS may be his most epic collaboration yet.
They first began teasing the new track in July, releasing a string of hilarious videos with Blanco trying his best to fit in with BTS.
In one video chat, Blanco straight out asks Jin, Jimin, V and Jung Kook if he can join the band. "No," the BTS members immediately say in unison, before Jimin offers a compromise: "But we can make a song together." And as they say rest is history.
Prior to the video release, a short trailer for "Bad Decisions" MV showed the "Eastside" artist identifying himself as a second Jimin in an effort to make his boy band dreams come true.
"This year, they're back," says a dramatic vo, stumbling a bit when the trailer cuts to Blanco pretending to be Jimin (from the iconic Dynamite MV). "Jin, V, Jung Kook, Jimin — Jimin? — Snoop. 'Bad Decisions.'"
It was Snoop Dogg who first leaked the collaboration between him and BTS in January. The rapper revealed on a podcast that BTS had reached out to him with the hopes of working together, and in March, he said their partnership was "official like a referee with a whistle".
"I make good music. They make good music," Snoop said "And we end up doing this. This is what it's always about, bringing our worlds together."