Inside Kashmir
BJP will replace tricolour soon, Mehbooba warns on Aug 5 anniversary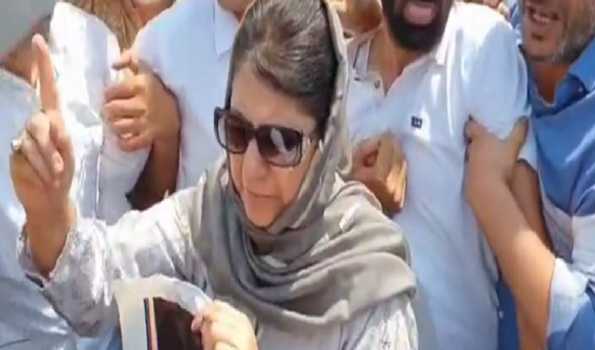 Srinagar: In what could trigger a fresh controversy, former Chief Minister and PDP President Mehbooba Mufti on Friday alleged that BJP will replace the tricolour in near future.
She was talking to reporters in Srinagar after holding a protest along with PDP workers outside the party headquarters on the third anniversary of abrogation of Article 370. She alleged that police did not allow them to take out a march.
"I want to tell the citizens of this country that the BJP will finish off the Constitution in the coming days.
"They will finish off the Constitution which is based on democracy and secularism and make this a religious country. And they will also change the 'tiranga' that you are unfurling with pride today," she said.
"If people of India don't wake up now, a lot will be lost. Nothing will be left..," she added.
Mufti alleged that BJP will change the Constitution and the flag just as they snatched away the Constitution and flag of Jammu and Kashmir.
The PDP president said the people of J&K have taken a vow to get back what has been snatched on August 5, 2019.
"We have taken a vow to not only get our flag and constitution back, but also compel them to resolve the Kashmir issue for which lakhs of people have sacrificed their lives," she added.
Mufti said August 5 was not only a "black day" for people of J&K, but also for the whole nation.
Earlier in the day, Mehbooba Mufti rubbished the notion that there is normalcy in J&K.
"As BJP's malicious designs for J&K have unravelled, the pattern of suppression & fear is now knocking at the door in rest of the country too. Weaponising their pet agencies & using terror laws to stifle dissent has become the norm," she said in a series of tweets.
"Your silence & complicity emboldened GOI to wreck havoc. Today they are trampling upon Indian democracy by subverting every pillar that supported it. BJP's so-called integration of J&K which never happened has cost us heavily," she added.
"J&K has slipped on the development indices index. Unemployment & inflation is at an all time high. The facade of normalcy is as real as 'Sabka saath sabka vikaas'."
Another former chief minister and NC leader Omar Abdullah said they will continue the peaceful struggle using all legal and constitutional means to challenge what was done to J&K on August, 5 2019.
"We will continue our peaceful struggle using all legal & constitutional means to challenge what was done to J&K on 5th Aug 2019. The road ahead may be a long one, full of twists & turns but it's not one JKNC_(National Conference) will abandon," he tweeted.