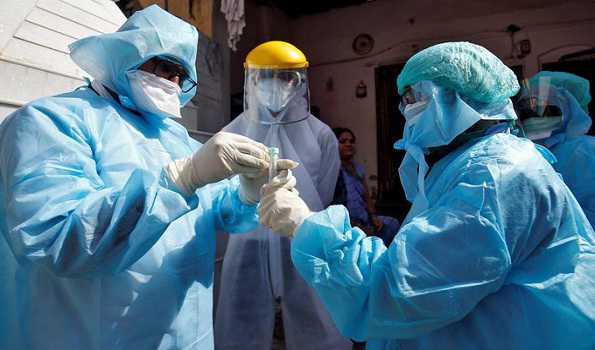 New Delhi: With as many as 1,022 active cases surfacing in the past 24 hours, the total number of confirmed Coronavirus cases across the country, so far, jumped the 33,000 mark on Thursday morning to stand at 33,050 , according to the Union Health Ministry.
The total number of COVID fatalities spiked to 1074 pan India with 67 deaths reported in the past 24 hours.
The number of cases that have recovered has also risen to 8,324 after addition of 528 cured cases since Wednesday evening.
There is an improvement in the recovery rate of COVID cases , the government had said.
Maharashtra remains to be the worst hit with the situation escalating close to 10k confirmed cases at 9915.
With 32 fresh fatalities reported since 24 hours, the toll in the state has now reached 432.
The National Capital Delhi has maintained one of the best recovery rates in the country with 1092 patients cured and discharged from the hospitals so far, while the number of total cases now stand at 3439 with 56 fatalities.
Meanwhile, in Gujarat, the second most affected state in the country, now houses 4,082 cases with deaths mounting to 197.
The numbers have witnessed an increase on daily basis in the state since the past week.
Madhya Pradesh, Rajasthan and Uttar Pradesh have also been witnessing a rise with the number of cases standing at 2,561, 2,438 and 2,134 respectively.
Toll in MP has mounted to 129, the data added.
Meanwhile, the Home Ministry on Wednesday had permitted inter-state movement of the stranded migrant workers, pilgrims, tourists, students and other persons by road, but, they would be allowed to move after the concerned States and UTs consult each other and mutually agree to their movement.
The Health Secretary had said that non-COVID essential medical care should not be neglected in the country during the current times.
It was reiterated by the government official that patients needing care like dialysis, cancer treatment, diabetics, pregnant women and those suffering from cardiac ailments must be given adequate care.