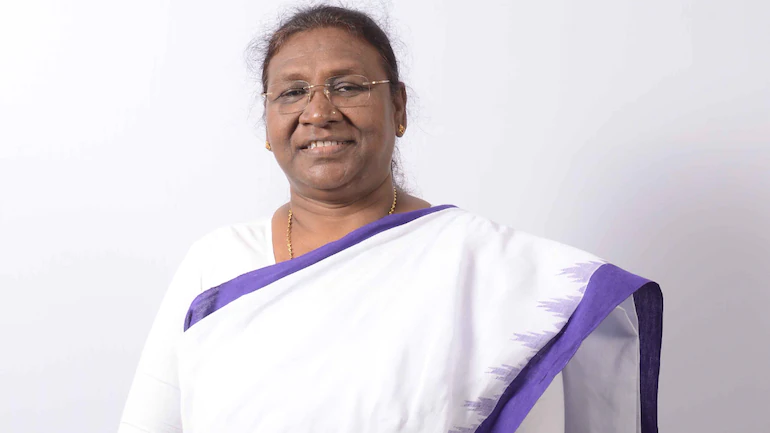 The election of a tribal woman Draupadi Murmu to the office of President of India is a defining moment in the history of independent India.
After the rise of Prime Minister Narendra Modi, a person belonging to the OBC caste and then former President Ramnath Kovind, a person belonging to the Dalit community; and now with the win of Draupadi Murmu, a person belonging to the tribal community, India is sending a powerful message to the rest of the world, that as a nation, India has risen above caste and religious biases to elevate political leaders to highest offices of governance based on meritocracy.
In new India, it is not political aristocracy that matters anymore but dedication and devotion to the nation alone that matters.
President Draupadi Murmu is a woman from the tribal community. She is symbolic of the nurturing power of a woman that forms the cornerstone of the belief system of millions in India's tribal communities. She is an embodiment of the sacred feminine because she has risen up through her painful personal and professional struggles to carve a path in her life to serve the people around her, when most people – men and women alike would have given up.
President Draupadi Murmu is the first tribal woman to hold the top constitutional post of the country –  President of India.
She is not an aristocract and neither does she come from opulence, she comes from a humble background, born into the Santhal family on June 20, 1958. She was born in Uparbeda village in Odisha's Mayurbhanj district. Her father, Biranchi Narayan Tudu and grandfather had served as sarpanch in their village.
She excelled in her academics and was a devoted follower of Lord Shiva from a young age. She came from overcame many obstacles to finish her further education.
President Murmu began her career as a school teacher before entering state politics. She worked as an assistant professor at the Shri Aurobindo Integral Education and Research Institute, Rairangpur and junior assistant at irrigation department Government of Odisha.
She joined the BJP in 1997 and was elected as the councillor of the Rairangpur Nagar Panchayat, going on to become the Chairperson of Rairangpur Nagar Panchayat in 2000. She also served as the national vice-president of BJP Scheduled Tribes Morcha.
During the BJP and Biju Janata Dal coalition government in Odisha, Murmu served as the Minister of State with independent charge for Commerce and Transport from March, 2000 to August, 2002 and Fisheries and Animal Resources Development from August, 2002 to May, 2004.
Murmu served as the ninth Governor of Jharkhand from 2015 to 2021. She was also the first tribal woman to hold the office of governor in the state of Jharkhand.
She married Shyam Charan Murmu, a banker. They has two sons and a daughter. Her husband passed away in 2014 due to cardiac arrest.  In 2009, one of Murmu's sons – Laxman Murmu passed away, at the age of 25 years, he was found in an unconscious state in his bed. In 2012, Draupadi Murmu lost her second son in a road accident.
Itishree Murmu, her daughter works at a bank and is married to Ganesh Hembram, who is a rugby player.
President Draupadi Murmu's tragedies did not break her but instead strengthened her resolve and it lead her towards spirituality. She has been associated with the spiritual organisation Brahma Kumaris.
Her victory over opposition candidate Yashwant Sinha was phenomenal in its sheer margin of victory and the cross-voting that took place.
Several political parties from the opposition voted from Draupadi Murmu because they found merit in her to be the President of India. Yashwant Sinha, did not have a chance against Draupadi Murmu. He resorted to whining like a loser at the onset of the presidential campaign by attacking Draupadi Murmu personally. He wanted her to take a vow that she would not be a rubber stamp of the Narendra Modi-led government. Such arrogance from man who once held the office of the Union Minister of Finance.
The condescending tonality of Yashwant Sinha and his choice of words got its fair and prudent reply in the silence, humility and hardwork from Draupadi Murmu. Murmu did not beat Yashwant Sinha because she is a woman from the tribal community, she beat Yashwant Sinha because she was more deserving a political candidate, a better human being and someone who commanded respect through her humility and not rants.
Draupadi Murmu won the confidence of the political leaders in the opposition. It is one of the reason that the victory margin was huge, indicating that many from the opposition voted for her. The elected representatives of the people of India wanted a leader who provided hope for India at the top most constitutional office of this country to uphold the Constitution of India.
Draupadi Murmu is a loud message to the world that often portrays India as a patriachial society infested with caste biases. To the world, a woman from a tribal community in India would never hold the office of the President of India in a 100 years but India did it, 75-years after its independence. Ironically, a nation such as the United States of America that questions India on human and woman rights, has never allowed for a woman to hold the office the President of the United States since its independence since 1776.
Draupadi Murmu rise to the President of India is an inspirational message to every Indian sitting in India and in other parts of the world. The message is so simple and beautiful,  "You might come from the smallest of corners of the Indian society, if you have the will to serve the nation you will succeed."
India is witnessing the rise of the 'Power of a Woman' with the victory of Draupadi Murmu. Her power is not arrogance that comes from family legacy that blocks roads across India because one is asked to appear for questioning in an alleged criminality. Her power comes from her humanness and humility that has touched the lives of people in her political career. She is a woman of substance and today is just another milestone in the history of her inspiring life. She will have many more. The aura of positivity around her will take her to remarkable heights and her humility will make her a President that would be remembered by India fondly.
India needs more of Draupadi Murmu and less of Sonia Gandhi.