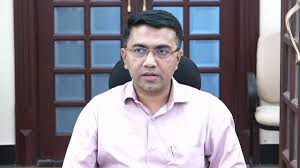 Panjim: Chief Minster of Goa Dr Pramod Sawant on Tuesday said that the state government had no information about persons from Goa who attended the religious function organised by the Tabligh-e-Jamaat in Delhi's Nizamuddin area.
Responding to a question during a press conference, he said he did not have information about any person from Goa returning to the state, after attending the meeting in Nizamuddin.
"I have no information. I will check with the police," he said.
As many as 24 persons from Delhi who attended the meet have reportedly been diagnosed as COVID-19 positive.
Several people from other states like Telangana, Andhra Pradesh and even Andaman and Nicobar islands, who had attended the meeting, have tested positive.