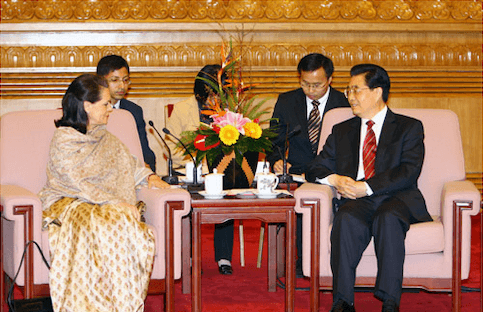 New Delhi: GoaChronicle team of Savio Rodrigues and Advocate Shashank Shekhar Jha have petitioned the National Investigation Agency (NIA) to initiate a preliminary enquiry into the Memorandum of Understanding (MoU) signed between Indian National Congress (INC) and the International Liaison Department (ILD) of Communist Party of China (CPC) on August 7, 2008.
Speaking on the new development Savio Rodrigues, Editor-in-Chief, GoaChronicle.com said, "We were advised by the Supreme Court to approach any High Court in India. Before approaching the HC, we decided we will petition the NIA with an official complaint and await their revert for an action because the matter is of national security. Congress signed a pact with the International Liaison Department of CPC which is covert foreign intelligence arm of China. We have exposed this shocking truth on our news portal. We are hopeful that NIA will consider our petition in light of the evidences we presented."
Letter to NIA

Shashank Shekhar Jha, lawyer and Legal Editor of GoaChronicle.com who is the co-petitioner in this matter said, "This is the matter of National Security and Constitution asks us to protect India from all kind of threat. The deal signed between Congress & Communist Party of China (de-facto govt of China) seems to be a very unethical deal about which Congress party didn't tell anything to Indians. The deal signed in 2008 was said to be about mutual corporation however there were over 600 intrusions from Chinese side during Congress rule between 2008 to 2014. Also the trade deficit between India-China has took a very insignificant boom after this deal was signed. We, through our petition wants this deal to be checked under Unlawful Activities Prevention Act(UAPA) by the NIA so that nation's Interest must be secured.
On August 7, 2008 Rahul Gandhi, General Secretary of the Indian National Congress (INC) and Wang Jiarui, Director, International Liaison Department of the C Communist Party of China (CPC) signed a Memorandum of Understanding (MoU) in the presence of the President of INC Sonia Gandhi who was also the Chairperson of United Progressive Alliance (UPA) I at that time, President of China, Xi Jinping who was then the Vice-President of China and Congress leader Anand Sharma.
But is the International Liaison Department of CPC only a China foreign policy influencer or is it a covert intelligence agency of China. GoaChronicle.com investigates revealed
https://goachronicle.com/international-liaison-department-of-communist-party-of-china-is-a-covert-intelligence-agency-according-to-global-intelligence-networks/