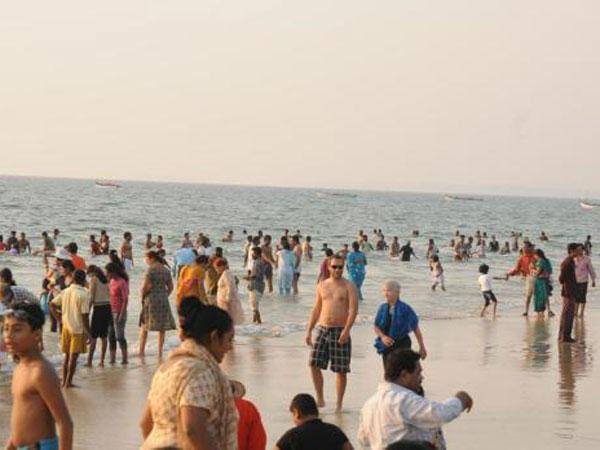 Goans versus Non-Goans is a perineal topic of discussion in Goa
Some politicians in the state claim to have stoked the fires of regionalism and territorial-based reservations in the state in order to protect the interests of the local Goans.
Some political parties have demanded that Goans must have 80 per cent reservations in jobs at private companies operating in the state of Goa.
A new political party even put forth a bill termed POGO (People of Goan Origin) which the Chief Minister of Goa Dr Pramod Sawant categorised as unconstitutional both in its merit and intent.
There is no doubt that Goans must protect the cultural face of Goa. We cannot turn Goa into a metropolis like most Delhiites hope to turn the state into or a poor tourist's version of Macau that several central ministers moot about, each time they come to the state.
Fighting for the cultural face of Goa is not the same as fighting for 80 percent job reservations for Goans. It is impractical to demand for job reservations for Goans if they are not skilled in the requisite jobs sort.
Goa started to witness an influx of people from other states when Goans refused to work in certain skilled and unskilled jobs. More so, many companies have often opined that Goans are not effective workers for the salaries they demand.
Of course, such comments need to be taken with a pinch of salt because at most times companies want to cut down on labour cost and therefore, prefer to hire workers from outside of Goa; because labour is affordable and business-wise, economical. It, however, does not change the simple fact that more non-Goans are finding jobs in Goa leaving the Goans dismayed.
Second vital factor that is the bane of the employment conundrum that is stoking the fires of conflict between Goans and non-Goans in Goa is that most Goans want to work in government jobs and not necessarily private companies. Lack of government jobs is forcing Goans to seek employment in private companies and that is leading to a remuneration competition with people from other parts of India that are willing to work for 20 to 30 percent less salaries than the Goans.
Thirdly, in my view, based on my interaction with different stakeholders working on the economic progression of Goa is that Goans themselves have started to give the operations of their businesses to non-Goans in order to be assured of guaranteed returns without having to invest time or money in running their business operations. This is so evidently clear in the running of some restaurants and hotels in the state along the coastline. It is owned by a Goan but operated by a non-Goan. This phenomenon is leading to non-Goans preferring to hire staff from other states of India who are willing to work on lesser salaries and the God-given opportunity to live in the idyllic state of Goa.
The rapid but pertinent infrastructure development whether its roads or the new airport at Mopa are triggers to an inevitable inter-state migration that Goa will witness in the next 5-years and this migration will only increase in the years ahead.
Let's look at one sector, tourism but more importantly casino tourism will bring with its business the casino culture that has now being confined to on-shore operations on the Mandovi River. The plan in business circles that matter outside Goa is to turn the contiguous land around the Mopa airport into an Indianized version of Nevada. This growth plan is going to see a further divide between Goans and non-Goans because to cater to the human resources needs of a Nevada-like concept it will need much more than the limited Goans workforce and companies will be forced to rely on non-Goan human resources.
Fourthly, most Goan entrepreneurs working on new age business concepts; not like the traditional business houses that are heavily invested into mining, real estate, shipping, pharmaceuticals and hospitality are looking at expanding their business ideas outside of Goa because at this point of time Goa has a very limited market capacity. Most new age entrepreneurs are failing to realise the evident trend that Goa will see a huge shift in its population demographics, something Mumbai witnessed 40-years ago. Today, everyone is focusing on tourism because mining has been stopped but Goa's future will see a steep rise in economic sectors beyond tourism, once the population demographics see more influx of non-Goans.
The moot point behind the Mopa Airport in the Amman and Whitney Report that was submitted to the Centre and State was that Goa has the potential to see over 30 to 40 lakh floating population because of its robust tourism and with tourism will come the possibilities of many more businesses from different sectors. Goans need to be prepared for the cultural and people demographic changes that will come to Goa.
It is important for Goans to understand that protecting the culture face of Goa is important but in order to that we must first stop the sale of lands by Goans.
Second, we must ensure that NRI Goans must use their spare monies to encourage entrepreneurship in Goa by investing in new ideas by Goans that would benefit the state in the long-run.
Thirdly and most importantly, sitting in UK or US telling Goans to save Goa is mere noise, if you want to be a voice then ensure you come back to Goa. Remember if as a Goan, we can work in other parts of India and abroad; we too have assimilated into that culture, in much the same way Indians from other parts of India who can add-value and uphold the cultural ethos of Goa must not be treated as outsiders. They are Indians just as we are Indians.
Goa is a part of India. If some Goans think otherwise, they are free to leave to the country of their choice because Goa is always going to be a part of India and we, Goans, Indians.