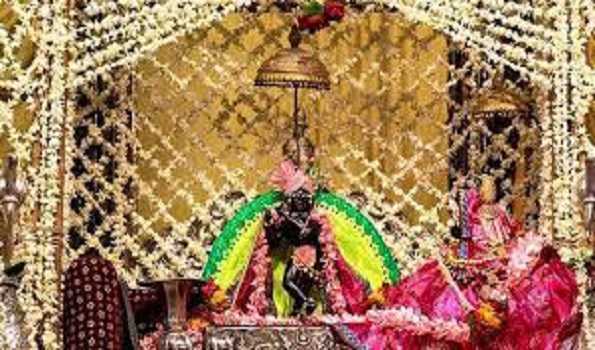 Mathura (UP): An interesting twist has come in one of the various cases related to the Sri Krishna Janmabhoomi dispute in Mathura court with a third party raising questions on the plaintiff's claim of being the descendant of Sri Krishna.
Deepak Sharma, counsel of the plaintiff, on Wednesday said that the office bearers of third party Yaduvanshi Jadaun Mahasabha have submitted an application in the court of Civil Judge (Senior Division) Jyoti Singh and have stated that Manish Yadav, the plaintiff in the case, has claimed to be the descendant of Shri Krishna, whereas he belongs to the Ahir caste.
They argued that the lineage of Lord Shri Krishna was from the Yaduvansh clan, a branch of the Kshatriya Chandravansh. Lord Shri Krishna was of Kshatriya caste and not an Ahir.
It has been stated that Nand Gope was of Ahir caste and he had no caste relationship with Shri Krishna.
The third party has tried to prove that the plaintiff Manish Yadav is not a descendant of Lord Krishna, Sharma said.
Sharma said that plaintiff Manish Yadav said in the court on Tuesday that the application moved by the third party was not worth admissible, because the third party gave this application after colluding with the respondents of this case.
He argued that they intentionally wanted stretch the hearing and joined forces as a third party to gain cheap publicity.
Yadav tried to prove that he is the descendant of Shri Krishna and the third party's argument is liable to be rejected, therefore a heavy fine should be imposed on him, Sharma said.
After this the third party took a copy of the statement of Manish Yadav and sought time from the court to reply, the court will hear their side on July 16.
Sharma said that the entire respondents side was present during the hearing on Tuesday, when advocate Rajendra Maheshwari and other respondents moved the application and emphasised that first it should be decided whether the case is maintainable or not and only then the issues related to the case should be taken up for hearing.
Maheshwari said that it is important to conduct a survey of the symbols of the temple located inside Eidgah first, because if it was destroyed by the respondents the case could "turn directionless".
He said that due to these seriousness, the High Court has directed for daily hearing in this case. After hearing the arguments of both the sides the court fixed July 7 (Thursday) as the next date of hearing.