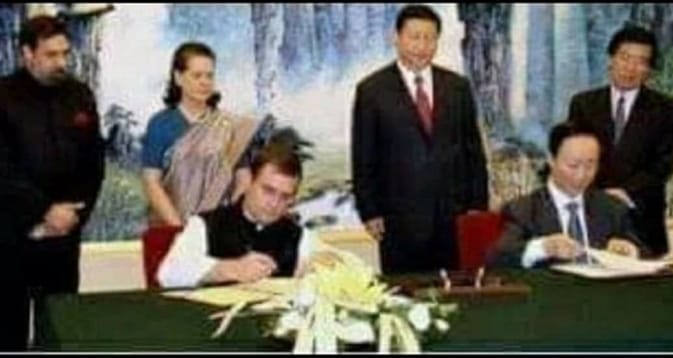 Senior Journalist Savio Rodrigues, Founder & Editor-in-Chief of GoaChronicle and I, Shashank Shekhar Jha, a practicing Lawyer of Supreme Court has moved a Public Interest Litigation (PIL) before Supreme Court of India seeking investigation on the MoU signed between Indian National Congress (Congress) and Communist Party of China (CPC).
India, unlike China, is both democratic and sovereign state. Transparency is the key factor in a democracy whereas nation's security falls under the preview of sovereignty both of which are getting hindered in this deal.
This deal was signed between ruling party of both the nations, however had it been signed between Government of both the nations, it would have been on public portal in India and accessible via Right to Information Act, 2005. Now because this deal was signed between ruling parties at that time and not Governments, we can't access the details just like Chinese citizens.
But here is the catch!
We're a democratic state, they're not.
So what are the ways to access the details?
One, we ask the Congress Party to share details of the MoU and let them come out clean. Savio on multiple occasions and through multiple modes have requested/asked Congress Party, it's interim President Sonia Gandhi and Rahul Gandhi, then party's General Secretary who signed the deal for Congress Party to come out clean and disclose the details of the MoU however to our surprise, the latter showed no intent to share the details which raised our suspicion and showed their malicious intention. Otherwise, why would a National Political Party hide something from the people who have voted it to power for over 54 years to rule the nation?
The only other choice we had as a responsible citizen to seek the details of this MoU is to go to court and ask for a probe.
Now, few may ask as to why this information is important or why are we scratching the past or why it need to be scrutinized?
Former Congress Minister Dr. Shashi Tharoor who is currently Member of Parliament from Thiruvananthapuram once said and I quote,
"if you don't know where you've come from, you'll never appreciate where you're going".
He said this in some other context, but I feel that be it a good or a bad experience, we must not forget it and get to it's bottom so to strengthen the country.
This deal, may have hindered our sovereignty in China's favor because though the deal was signed between Congress and CPC, Congress was ruling the nation at that time and was the head of the UPA collision, thus being responsible for all the decisions made.
With great power, comes great responsibility.
Congress always wanted power, but did shy away from taking up responsibility. This has led it to sign an agreement with Communist Party of China which is also the de-facto government of China. Those who are confused or those who are trying to find our agenda in moving this PIL before Supreme Court must understand the cause and the motivation.
Being a citizen of India, some of the moral responsibilities and duties mentioned in the constitution are: We must respect the National Flag and National Anthem, obey the laws of our country, protect the power, unity and integrity of the country, safeguard public property, pay our taxes with honesty promptly, protect and preserve cultural heritage sites, protect, preserve and improve the natural environment, we must guard the country and maintain the spirit of a common brotherhood, we must respect, value and follow all the noble ideals used in the national struggle for freedom, etc. Inclusion of such commitments to the Constitution is important for the progress, peace, and prosperity of the country.
We as responsible citizen couldn't do any less. Congress brought RTI Act in 2005 and kept Political Parties out of it's ambit. After this, it signed a deal with China. This way, it has fooled us twice
But not anymore.
We have taken this step and we're not going to shy away.
We'll take this to conclusion.
We'll win.
India will win.
Shashank Shekhar Jha is a lawyer of Supreme Court of India.
Hailing from Bihar, he is best known for bringing Justice to the public through the mode of judiciary from the PIL's he has filed.
From the Palgarh incident to Congress conspiracy, he has tried to bring the truth to the public.
His interest is ranging from Indian Politics to International Diplomacy and has been an avid debater and writer since his graduation days
Shashank Shekhar Jha
Twitter: @shashank_ssj