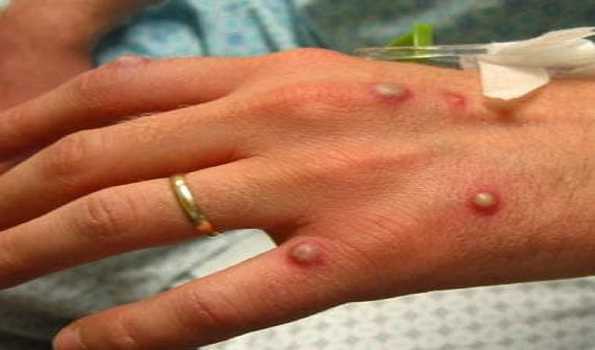 Hyderabad: Need not panic over Monkeypox as it takes much longer to transmit to another person compared to Covid-19, says Avash Pani, Consultant Paediatrician at Apollo Cradle & Children's Hospital. Although he warned that pregnant women and kids below eight are at risk.
In a release, Pani said Monkeypox has several symptoms common to other viruses, including 'hand, foot and mouth disease' or measles and chicken-pox, and it is best to consult a paediatrician for a correct diagnosis.
It is still quite rare, and this makes it a less dangerous illness, he said that most people are known to heal by themselves but in exceptional cases, pneumonia, eye or brain infections can occur.
A foetus may contract it from the mother, in the womb, the Paediatrician said that pregnant women and children below 8 are at a greater risk for severe disease.
Vaccines help patients get a less severe form of the virus, and they tend to recover better and faster, Pani said in the case of monkeypox, 2 vaccines have been approved and licensed by the FDA (Food & Drug Authority) – JYNNEOS and ACAM2000 but both are not yet available in India.
Pregnant women and nursing mothers are not eligible for these vaccines. The former can receive treatment via monoclonal antibodies, if they contract the virus, he said.
This virus is contagious, and usually spreads through close physical contact. It can take between five- days to three weeks after exposure, for symptoms to become evident, he said. Though children can contract this virus, parents can rest assured that in nearly all children the risk is low.
Some simple precautions and steps can ensure that the new virus does not spread further, and children and adults are safe. Washing hands with a mild soap or an alcohol-based sanitizer can prevent most infections.
Avoiding close contact with suspected or confirmed cases. Little children, pregnant women and nursing mothers should not have any physical interaction with the infected person, he said.
If any person in the family seems to have a boil, rash or symptoms like fever, shivering /chills, headache; muscle soreness; backache; fatigue and swollen lymph nodes, must contact the doctor immediately.
A blood test may be recommended, to confirm whether it is monkey pox or something else., the paediatrician said.
In a population of over 1 billion, eight or nine cases is still a very small number. , he added