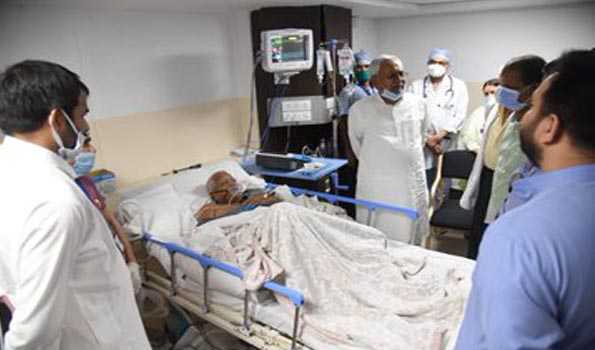 Patna: Bihar chief minister Nitish Kumar on Wednesday met ailing RJD supremo Lalu Prasad Yadav, who is admitted at Paras Hospital in the state capital and enquired in detail about his health conditions from the doctors treating him.
Kumar visited Lalu Prasad in the hospital ICU in presence of the family members of the RJD leader including his wife and former Bihar Chief Minister Rabri Devi and both of his sons Tej Pratap Yadav and Tejaswi Prasad Yadav.
After visiting the RJD leader, Kumar described Lalu Prasad as his old friend and told newspersons that he was being flown to Delhi for better treatment as decided by his family members.
Praying for his speedy recovery, Kumar said that Lalu Yadav will get better and advanced treatment in Delhi.
Meanwhile, Bihar Health Minister Mangal Pandey also visited the hospital to know the details of Lalu Prasad's medical condition. He enquired in detail about the requirements for shifting him to New Delhi by air ambulance.
Bihar industry minister Shahnawaz Hussain and several other leaders cutting across party lines also visited the RJD leader in the hospital.
Earlier Prime Minister Narendra Modi had spoken to Tejasvi Yadav about the RJD supremo's health condition.Lalu Prasad was admitted to Paras Hospital after he slipped from the stairs at the official residence of his wife Rabri Devi in Patna on Sunday night.
He has a shoulder bone fracture and an injury in the pelvic region.
As per the records of Ranchi Medical College, he was suffering from multiple diseases including diabetes, blood pressure, heart ailment, enlarged prostrate, increased uric acid, kidney ailment, stone in kidney, thalassemia, brain ailments, problem in bones, eyes and various others disorders.