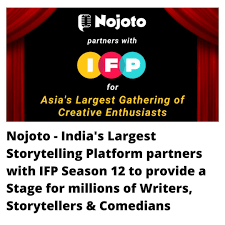 Nojoto, India's largest story telling platform and IFP, formerly India Film Project, have come together to create an unmissable opportunity for millions of creators through the Nojoto app. A number of challenges ranging from those of writing, story-telling, stand-up comedy, music and filmmaking are waiting for the creators to be taken part in.
The top creators and winners of the challenges will get a chance to perform live at Asia's largest content festival to be held in Mumbai in the month of October, 2022, in front of more than 40, 000 prestigious spectators and win exciting prizes.
The contest, named 'IFP Challenges season 12' on Nojoto was launched on 3rd August, 2022 and will remain open for participation till 28th August, 2022.
Interested participants would have to submit their entries using the given hashtags on the Nojoto platform and the best entry in all the categories will win cash prizes and e-certificates along with the chance of performing at Mumbai's IFP festival.
As a matter of fact, India has witnessed the number of mobile users growing manifold. The country currently has more than 637 million smartphone users and it is expected that by the year 2026, this will increase to more than 900 million users. Therefore, it is important that creators who use smartphones to create content should get more opportunities to showcase their talent and garner recognition and support.
Such statistics also indicate that the demand for high quality content in India is augmenting with each day which is further creating greater opportunities for creators. To provide similar opportunities, Nojoto offers various formats such as 'Video' and 'Live' to its users to share their content with the audience on the platform.
Talking about the collaboration with Nojoto, Vedanti Poddar, the Partnerships and Brand Solutions Executive at IFP said, "We at IFP are delighted to have Nojoto as our community partner for IFP season 12. With synergy among the people that we are catering to, the goal of the partnership is to enable the creators to take their creativity a notch further. We look forward to forging relationships that would benefit the community of artists, writers, storytellers, standup comics, filmmakers, and more".
Satyaprem Upadhyay, Co-Founder & CEO, Nojoto says, "This partnership democratizes the access to showcase talent for millions of creators across India. With our mission to empower people to become creators & make a living out of it, we will keep creating many such opportunities for creators of Bharat in future as well".
With the growing number of creators, it has become really important to bring the desired recognition to each one of them and Nojoto is working towards solving this problem for creators by enabling them to create their content using tools on the app and creating their community which likes their content; further enabling a creator to earn from their own content in this growing era of a creator economy.
To participate in the IFP Challenges, one needs to:
1. Download the Nojoto app from google play store
2. Participate in a challenge using the given hashtag
The last date to send entries is 28th August, 2022.
https://youtube.com/shorts/dnAcEFw6B-s