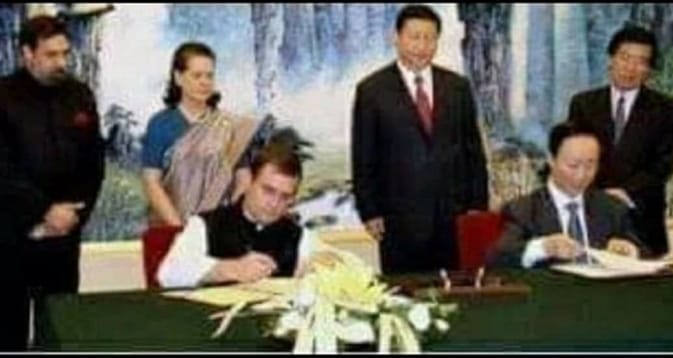 On August 7, 2008 Rahul Gandhi, General Secretary of the Indian National Congress (INC) and Wang Jiarui, Director, International Liaison Department of the Communist Party of China (CPC) signed a Memorandum of Understanding (MoU) in the presence of the President of INC Sonia Gandhi who was also the Chairperson of United Progressive Alliance (UPA) I at that time, President of China, Xi Jinping who was then the Vice-President of China and Congress leader Anand Sharma.
So what is the International Liaison Department of the CPC with whom the Indian National Congress signed a MoU. And why do many experts in the intelligence and policy circles globally observing China believe that ILD of CPC evinces more power over the Chinese government than its Ministry of Foreign Affairs. GoaChronicle.com investigates.
The International Liaison Department of CPC on its official websites states that its functional features are: It is a functional organ of the Central Committee of the CPC responsible for the Party's international work. Its main responsibilities are threefold: to implement the principles and policies of the Central Committee over its external work,follow closely in its research work the developments and changes of the world situation and key global issues and provide briefing and policy proposals to the Central Committee; to carry out the Party's exchanges and communications with foreign political parties and organisations entrusted by the Central Committee; to coordinate in administering international exchanges of departments directly under the Central Committee and Party committees of provinces, autonomous regions and municipalities under direct jurisdiction of the central government.
The ILD official website also states in the section of CPC International Relation states: Although CPC's party-to-party relations are for political parties of other countries, not handling directly state affairs, the party-to-party relations can play a very active role in establishing, developing and consolidating state-to-state relations.
The ILD of CPC websites in its historic narrative talks about the fact that after the reform and opening-up began, the CPC, drawing on the lessons out of past experiences, further defined the difference and relations between party-to-party and state-to-state relations. Deng Xiaoping said repeatedly that the two kinds of relations should be differentiated, and make the party-to-party ones not to affect the state-to-state relations. In 1997, the 15th CPC National Congress made it clear that its party-to-party relations were to facilitate state-to-state relations. Jiang Zemin said on the conference, "On the principles of independence, equality, mutual respect, non-interference in other's internal affairs, and for the purpose of facilitating state-to-state relations, the CPC is willing to have a new kind of relations and cooperation with any foreign political party, so long it wishes to have contacts with us." 
In 2001, on the rally celebrating the 80th anniversary of the CPC, Jiang Zemin defined the purpose of CPC party-to-party relations as "facilitating the friendship among nations and the development of states." 
In September 2004, a decision on elevating the party's governing ability made by the CPC Central Committee said, "Consolidating and improving our foreign relation work and non-governmental relations, we will serve the state-to-state relations better."
The CPC Central Committee also continues to utilise the ILD to further Beijing's long-term interest of friendly relations with rising foreign politicians and influencers, even if current state-to-state relations are troubled with controversy.
ILD is a ministerial-level agency that manages the Party's relations with foreign political parties, international political organizations, and overseas political elites. The ILD maintains ties with over 600 such groups from 160-plus countries and has enjoyed a markedly higher profile under Xi Jinping's advocacy of 'new type of party-to-party relations'. 
Song Too, the ILD's director since November 2015 in a ILD media briefing to Chinese news agency stated, "Through exchanges and cooperation with foreign political parties, the agency can influence the other side's attitudes and policies toward China, and make the other side understand, respect, and approve our values and policies. ILD diplomacy aims not only to increase support for China's rise but also means more people will study and learn from our experience of governance."
In a secret CIA Report on the International Liaison Department of CPC released in 2007, it is stated,
"The ILD, although a party department, was of status comparable to numerous branches of the State Council (Government). Its primary responsibility was to maintain contacts with friendly Communist Parties in Communist-ruled countries, and to find, nurture and develop pro-Chinese sentiment wherever it was found. In this capacity, it often worked hand-in-glove with overseas
MFA personnel in the embassies. At the same time. it is clear from the available evidence that the MFA and ILD kept their functions carefully separated. ILD personnel were of a 'higher status' and better paid than were those of government bodies, because the ILD was a Party organisation."
On the appointment of Rahul Gandhi as a general secretary of INC in September 2007, Zhang Zhijun of the International Liaison Department congratulated Rahul Gandhi on his appointment as Congress General Secretary. He told sections of the media in China, "The Indian National Congress is a very important political force in the political arena of India. We highly appreciate the Indian National Congress for the role it has played in safeguarding the friendly relations between China and India and promoting the cooperation between the two countries. 
He said the CPC maintained sound inter-party relations with major political parties in India, including the Congress."The CPC is also willing to strengthen exchanges, enhance mutual understanding, promote friendship with major political parties in India so as to drive forward our comprehensive relations so that we can make more contribution to the deepening of our strategic cooperative partnership between China and India which will be beneficial to the two countries, the two peoples, peace, stability, development of the region."
A 2011 congressional report expressed concerns that the Sanya Initiative, a private exchange program for retired U.S. and Chinese generals, was created "to influence the U.S. government and downplay Beijing's large-scale military buildup." The program, sponsored by the China Association for International Friendly Contact (CAIFC), which is part of the CCP's International Liaison Department, brings together retired high-level U.S. military officials with Chinese counterparts. 
The International Liaison Department actively conducts new types of party-to-party exchanges and cooperation in an effort to promote the development of state-to-state relations.
In a report in the Hoover.org titled 'Chinese Influence Operation Bureaucracy' it states:
The CCP's International Liaison Department  is in charge of "party-to- party relations" and has the primary mission of cultivating foreign political parties and politicians around the world. This Party organ has existed since before 1949 and was formerly charged with maintaining China's fraternal ties with other communist and socialist parties around the world, but in the wake of the Cold War, the CCP/ID drastically broadened its mandate to interact with virtually all political parties abroad.
Through its interactions with political parties all over the world, the CCP/ID serves
an important function as a kind of "radar" for identifying up-and-coming foreign politicians before they attain national prominence and office. In addition, the ILD performs a range of other functions:
Administering "private sector" liaison organizations to facilitate contact with think tanks, NGOs, and individuals worldwide;
Collecting current intelligence and information on the foreign policies, domestic political scene and political parties, and societies in various nations worldwide;
Sending special study teams abroad to research important topics related to China's reforms;
Contributing to the work of Chinese embassies worldwide (usually monitoring domestic politics and liaising with domestic political parties, movements, and personages);
Working with other CCP Central Committee departments and State Council ministries to facilitate their work overseas (e.g., assisting the United Front Work Department concerning Taiwan, the External Propaganda Leading Group/State Council Information Office concerning China's image abroad, or the National People's Congress on parliamentary exchanges);
Arranging visits of central-level, provincial-level, municipal-level, and occasionally sub-provincial level CCP officials abroad;
Hosting foreign leaders, politicians, party officials, ex-officials, as well as a range of foreign policy specialists, on tours of China;
Hosting biannual World Political Parties High-Level Meeting, and the annual "CCP in Dialogue with the World" meeting.
As such, the ILD performs extremely important roles overseas and is a key—but underappreciated and even unknown—instrument in China's international influence activities.
Indian National Congress signed a MoU with the ILD on August 7, 2008. The details of the MoU has been kept secret for 12-years. GoaChronicle.com Founder & Editor-in-Chief Savio Rodrigues had asked Congress General Secretary Rahul Gandhi to make public the MoU document signed in 2008. 
During the Supreme Court hearing on August 7, 2020 on the petition filed by Advocate Shashank Shekhar Jha and Savio Rodrigues a  bench headed by Chief Justice S A Bobde, "We find that there is something which appears to be, what might be called, unheard of and absurd in law. You are saying that China has entered into an agreement with a political party and not the government. How can a political party enter into an agreement with China."
"Within our limited experience, we have unheard of it that a political party is making an agreement with other country. Every relief which you are seeking, can be granted by the high court. Secondly, high court is a proper court. Thirdly, we will have the advantage of high court order also," said the bench which also comprised Justices A S Bopanna and V Ramasubramanian told senior learned counsel Mahesh Jethmalini who was appearing for the petitioners.
The MoU signed on August 7, 2008 is a known fact. Sonia Gandhi in an interview with a Chinese news agency – Xinhua, broadly discussed the contour of the Congress and CPC relationship.
She stated China has already emerged as India's largest trading partner. She called for stepping up exchanges among younger leadership in Congress and CPC to enhance mutual understanding in promoting trade, infrastructure building, investments, international cooperation at multilateral levels, regional cooperation, employment generation and environment protection. 
In the interview Sonia Gandhi also expressed, "I believe that we should foster greater cultural and social linkages, especially among the youth, even as we promote trade, investment at the national levels, and international cooperation on multilateral issues of importance to both countries and on which we can adopt a common approach."
The International Liaison Department of the CPC is nothing but a foreign policy influencer of the Chinese government disguised as a political party's international relations department.
CIA Report on ILD-CPC