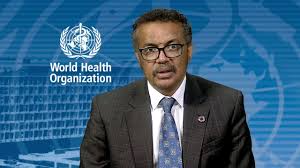 Geneva: Raising a bugle over misinformation in the time of the Coronavirus pandemic, Dr. Tedros Adhanom Ghebreyesus, Director-General, World Health Organisation warns that just as COVID-19
has been spreading around the world, so too have rumours, untruths, and disinformation. And they can be just as dangerous.
Speaking at the UNGA side event on infodemic management, Dr Tedros said, "Far too many people have done themselves harm based on falsehoods, self-medicating with toxic chemicals or dangerous medications. Others have not taken the precautions they should have."
The DG further elucidated that false information has also increased stigmatization, which becomes a barrier to seeking care for those who need it. In some cases, it has led to violence against health care workers, individuals, or vulnerable groups such as minorities or refugees.
"Misinformation also has an impact on trust – trust in science, trust in institutions, and trust in health systems. In this pandemic, as in all health emergencies, trust and solidarity are critical. Everything that undermines, that puts lives at risk.  But we can bring this virus under control if people have accurate, timely information about the basic measures that they can take to protect themselves and others," he further added.
Dr Tedros urged member states on the need to work together to provide the public and policymakers with accurate information and stop the spread of falsehoods that undermine this response. "Today, WHO and our partners are calling on all countries to put in place national action plans to promote science-based health information and to combat misinformation. And we call on the media, technology companies, civil society, researchers, and people everywhere to keep the infodemic from spreading. Because now more than ever, the truth matters".