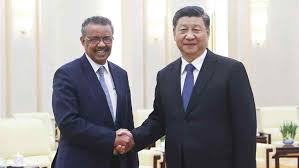 Geneva: The World Health Organisation continues to pursue talks with China about Beijing's possible involvement in the COVAX financing scheme, which is designed to give fast and equitable global access to vaccines.
"We're in discussions with China about the role they may play as we go forward," said Bruce Aylward, WHO senior adviser and head of the ACT-Accelerator program to back vaccines, treatments, and diagnostics against COVID-19.
Talks with China also include discussion of the world's second-largest economy potentially supplying vaccines to the scheme, he said.
The UN agency published on Friday draft criteria for the assessment of emergency use of COVID-19 vaccines to help guide drugmakers as vaccine trials reach advanced stages, said WHO assistant director-general, Mariangela Simao. The document will be available for public comment until October 8, she said.