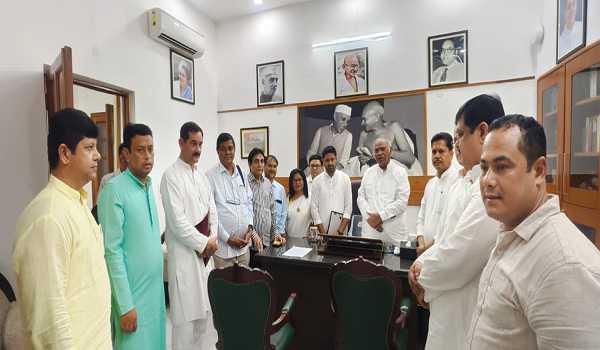 New Delhi: Leaders of as many as 11 Opposition parties met Congress president Mallikarjun Kharge here and raised their objections over the ongoing delimitation exercise in the Northeastern state.
The delegation of Opposition parties led by the state unit of Congress met Kharge at his residence here last night and handed him a representation in this regard.
"Leaders of 11 Opposition parties, along with AICC General Secretary Jitendra Singh Alwar, Congress Party's Deputy Leader (Lok Sabha) Gourav Gogoi, PCC President Bhupen Kmar Borah, CLP Leader Debabrata Saikia, and other members of the Assam Congress, handed over a representation to me regarding our collective objections to the delimitation exercise in the state," said Kharge.
The Congress chief said a memorandum in this regard will be given to the Election Commission of India.
"This issue will be taken up in all appropriate forums. The delimitation exercise in Assam needs wider acceptance and consensus within the political spectrum," Kharge wrote in a tweet on Friday.
Among the leaders from the Opposition parties who met Kharge was Assam Jatiya Parishad President Lurinjyoti Gogoi.
Last month, the Election Commission of India published the draught proposal for delimitation of Assembly and Parliamentary Constituencies for Assam as provided for in Section 8-A of the Representation of the People Act, 1950.