I normally do not believe in wasting my time countering absurd tweets from movie stars. But your post, Prakash Raj on the social media platform Twitter comparing India's Prime Minister Narendra Modi to Adolf Hitler needs to be condemned for it is an insult to us Indians not just PM Modi.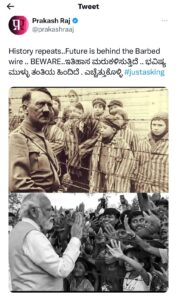 I do not expect much intelligence from movie stars because in all fairness they lack the intelligence quotient because they have a high emotional quotient. That's one of the reasons they appeal to people through their artistic work and not their intellect.
Prakash Raj, you are a phenomenal actor. I enjoy your performances. Of course, I know you are also a part-time politician but a poor one at it.
It is when intellectually weak actors like you, Prakash Raj attempt to act intelligent by resorting to lies to insult the Prime Minister of India and us Indians, that's when an actor like you needs to be given a rude lesson in the truth.
https://twitter.com/prakashraaj/status/1654027145386299393?s=20
So let me be brutal in my opinion on you, Prakash Raj. You are a man that deserves no respect. You are worse than an ignoramus. Even a school-going child will know the difference between Hitler and Prime Minister Narendra Modi. Hitler was a 'Devil Incarnate', Modi a 'Good Human'.
Having studied so much about the atrocities committed by Hitler and his Nazi Germany on the Jewish people around Europe, I am convinced that Adolf Hitler was a 'Devil Incarnate'. He was not a human. He was inhumane, diabolic, and downright evil. His hate for the Jews, when I read stories of the Holocaust survivors, it sends chills through my blood.
Demonic personalities like Adolf Hitler can forever kill the hope and faith a human can have in another human being. Hitler and his 'Final Solution' took the lives of over six million Jews, when most of the world, especially the Catholic Church remained a mute spectator. No one cared about the Jews when they were stripped of all human dignity in Europe.
The Holocaust was initiated by Hitler and those that blindly followed his madness. The Holocaust was the systematic, state-sponsored, persecution and murder of six million Jews by the Nazi regime and its collaborators between 1933 and 1945 across Europe and North Africa. By the end of the war in 1945, the Germans and their collaborators had killed nearly two out of every three European Jews.
I visited the Yad Vashem – Holocaust Museum in Jerusalem, Israel last month. It pained my heart to see the inhumanness and acts of brutality.
The Nazis believed that Germans were racially superior. They believed Jews were a threat to the so-called German racial community. While Jews were the primary victims, the Nazis also targeted other groups for persecution and murder.
Sometimes Jews were killed outright—entire villages were rounded up and shot, or murdered in killing centers. In other areas, Jews were forced to work as laborers for the German war effort until they died of overwork or starvation.
In countries across Europe, tens of thousands of ordinary people actively collaborated with German perpetrators of the Holocaust, each for their own reasons. Many more supported or tolerated the crimes. Millions of ordinary people witnessed the crimes of the Holocaust—in the countryside and city squares, in stores and schools, in homes and workplaces. The Holocaust happened because of millions of individual choices.
I have interacted with holocaust victims. I know the pain. I could still sense the fear.
I have also met families who had lost families during the holocaust. I felt their immense sadness. I sensed their resilience to fight with their lives to never be in such a horrific position ever again.
Prakash Raj, can please tell the people of India and the rest of the world from the above-cited brief details on the diabolic nature of Adolf Hitler and the brutal acts of his Nazi Germany on the Jews in Europe, where in India are such atrocities happening and to which minorities.
I am an Indian Christian, my parents, my wife, and my children have not been rounded up and sent to a concentration camp. Or others from my community were shot in the streets like they were target practice. Or Christian women being raped in front of their families especially their children and Hindu children stoning some of the disrobed Christian women, like the German children did to the disrobed Jewish women.
I am also curious to know if there are Muslim children, women, and men sent to the gas chambers in thousands, hidden from the public eye just like Hitler sent Jews from different parts of Europe to different gas chambers in different concentration camps. I would also like to know if there are piles of bodies of Muslims just stacked like waste after being charred to death in India.
You know Prakash Raj, you will not find this sight in India and I mean anywhere in India. It is only your corrupt imagination that is being controlled by your hate for Narendra Modi. Whether you like Narendra Modi is not my concern. In a democracy, you do not have to like all your leaders. But to spread lies about someone who occupies the top position of representing India in India and globally is downright disgusting and deplorable.
You are an imbecile. And I am being polite. I am not going to get into the work done by Prime Minister Modi. If someone deliberately opts to be blind to the truth, even the miraculous hands of Jesus cannot heal him.
Let me tell you my reason for holding Prime Minister Narendra Modi in high esteem and respecting him. For years governments have spoken about uplifting human dignity in India, especially about our women. For men, it was always easy for them to take out their nature's pipe and water the plants when their bladder tanks were full. But for women, it was a matter of shame and sometimes an opportunity to be harassed by insensitive men to relieve themselves in the open.
Prime Minister Narendra Modi and his team coming from his poor and humble life understood and upheld the principle of human dignity and embarked on a mission of providing toilets in every home in India. He launched Swachh Bharat Mission with effect from 2nd October 2014 with the main aim to make the rural areas of the country open defecation-free (ODF) by 2nd October 2019, by providing access to toilets to all rural households. About 10.9 crore individual household latrines (IHHLs) have been constructed in the country and 2.23 lakhs Community Sanitary Complexes. Of course, Prakash Raj, ensuring India is open-defecation free is not important to a man of a communist idealogy. You would still want women and men to defecate in the open. The world knows the respect men with communist ideologies accorded to women.
Hitler stripped the Jews of their human dignity – children, women, and men. Narendra Modi is upholding the dignity of Indian women, irrespective of their religion.
Modi is my friend. And more so a good person with a good intent. I know a good person when I see one and I know an evil one when I see one and of course, recognizing an ignorant fool is my specialty.
No Indian, especially one who has accepted his or her Sanatan Dharma roots, will ever behave in the manner that Adolf Hitler did. It is not intrinsic to our human and Indic nature. Hitler's behavior is something that is similar to the viciousness of the Islamic radicals.
Adolf Hitler was a fiend because the religious powers in Europe especially the Catholic Church did not find the need to raise their voices against the human rights violations he unleashed because after all the victims were only Jews. No one cares about the Jews just like no one cares about the Hindus globally. That's why people like you, kept quiet during the Kashmiri Pandit exodus in 1990. You have not even opened your mouth to date on the Kashmiri genocide by Islamic radicals.
You are a hypocrite and you needed to be called out for your hypocrisy. Kuch Bhi Karne Ka, Par India Pe Jhooth Nahin Bolne Ka.