Anything and everything associated with the Hindu community has become intolerable to the so-called 'minority' communities, and once again, it has turned absolutely okay for an administration to kill the festive vibes of the Hindu community in the Barmer district of Rajasthan. With one of the biggest Hindu festivals Holi coming up in a few days, an appalling order has been issued by the Barmer district collectorate. As Holi is approaching, Section 144 has been imposed in the state with relation to the festival so that restrictions are put in place on the Hindus of the region, in order to 'maintain social harmony, maintain law and order, and to ensure that social peace is maintained'
"The restrictions imposed are in public interest", says the smothering order against the Hindu festival of colours and joy.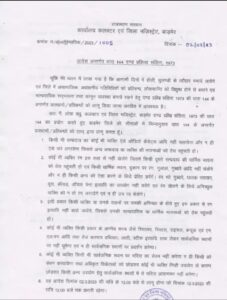 The order directs that no individual shall play such audio cassettes or get involved in sloganeering which 'hurt the sentiments of another community or individual'. One is forced to wonder as to what Holi songs or sayings or rhymes are less focused on simply celebrating the festival, and more focused on hurting the sentiments of other communities. The order further says that no individual shall play with colours in such a way which could hurt the religious sentiments of other communities. Also, people have been directed not to throw water balloons or colours on religious places and shops.
One finds it extremely difficult to wrap her head around the particular 'way' of playing Holi which hurts the religious sentiments of other communities. Further, absurdly, it has been mentioned in the order that no individual will be allowed to carry or flash any weapons like sticks, revolvers, pistols, rifles, guns, or ML gun; as if all the Hindus carry weapons on each Holi and attack the people from the 'scared minorities'.
This order has been imposed from the midnight of 2 March and will remain in effect till the midnight of 12 March, 4 full days after the actual festival of Holi comes to an end.
This order becomes another step on the staircase to proving that every Hindu festival has something wrong associated with it, as each year, we see how in this country, every single Hindu festival becomes an 'awareness campaign' for the Hindu-haters. For instance, on Mahashivratri, Hindus are preached about not wasting milk, on Diwali, we are asked not to burst crackers because they pollute the environment and scare away the stray dogs. Here, it is crucial to note that the very people who talk about the 'toxic pollution' of Diwali, which, according to environmental studies, does not even exist, have one car each for every family member in their home and cannot walk for a distance of even 1 KM. And these so-called animal lovers enjoy mutton, chicken and beef biryani when it is their favourite festival of Eid.
On Raksha Bandhan and Navratri, these Hindu-haters remember patriarchy. Finally, on Holi, these so-called pretentious animal-lovers, for whom only dogs and cats seem to be living, keep on crying that Holi colours are harmful for these animals, while these same people savour a turkey on Christmas, and very conveniently remain silent when rivers of goat and cow blood flow down the streets of every city of India on Eid.
Now, this order from the Barmer administration suggests that Holi merely being played by Hindus is hurtful to the sentiments of other religious communities. How I wish administrations across the country could also understand that it is not very 'sentiment-friendly' for the Hindus when stones are pelted on their processions by the Muslims, or when Hindu groups and processions are attacked brazenly by police forces.
If things remain to continue this way in this Hindu-hating country, the day is not far away, when orders asking Hindus to smother each other will be issued because them breathing will become 'offensive and hurtful' to the other communities. Because while the chants of "Allah hu Akbar" and "Nara-e-Taqbeer" inside the Jamia Milia University against Hindus playing Holi are just fine, 'secular', and 'peaceful', only Bhagwan knows what slogans and songs related to Holi can create law and order disturbances in the largest state of the country.