On Wednesday, July 12, the Vivekananda International Foundation, in collaboration with the Global Foundation for Civilizational Harmony, organized the 'Dialogue for Harmony among Religions', in Chanakyapuri, New Delhi. The event comprised a special address by the Secretary General of the Muslim World League, His Excellency Dr Mohammad Bin Abdulkarim Al-Issa, who is also the President of the International Islamic Halal Organization.
Beginning to address the gathering, speaking in Arabic, Al-Issa said, 'I am deeply influenced by the social and religious harmony seen among all of you, and my happiness knows no bounds after meeting the President of India, the Prime Minister of India, the intellectual, political, and spiritual leaders of this country. The diversity of thought in India has impressed me a lot and I have not experienced anywhere else, the kind of peaceful coexistence I have witnessed in India.'
'Interfaith dialogue to combat misconceptions are highly important and there is a need to protect and guide the next generation right from early childhood in order to prevent a clash of civilisations.', he further stated.
Dr Al-Issa
Speaking further, Al-Issa expressed that Indian philosophy has been instrumental in the progress of humankind, and that the diversity of thought in India impressed him a lot. 'The world can benefit from India's wisdom.', he added.
Talking about promoting a peaceful coexistence globally, he said that there was a need to celebrate differences and be united. 'We believe that we are different parts of the same tree. Our religion is humanity. All of us are from the same genealogy. We need to find a remedy for the misconceptions that are being spread.', Al-Issa stated.
He mentioned that two aspects, education and protecting youngsters from propaganda, needed to be worked on, and that inter-faith dialogue is the only path for the future, as it could help deal with the challenges of the time.
Gurumurthy, Chairman, Vivekananda International Foundation, said. 'The absence of dialogue is promoting conflict, but that dialogue has to be sincere and based on truth. Only the rise of India, which is the birthplace of the message of harmony, can bring peace in the world. Indian and Arabic civilisations have cooperated since millennia in transmitting knowledge.'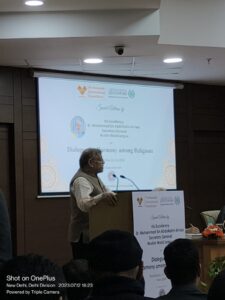 S. Gurumurthy
In his vote of thanks, President, Global Foundation for Civilizational Harmony, Savio Rodrigues, said, 'Dialogue is the way of the civilized people, and of nations to avoid conflicts. The absence of a dialogue promotes conflicts across the world. The Global Foundation for Civilizational Harmony was conceptualised and launched in September, 2008, with the core objective of dialogue for conflict avoidance, at a global level.'
'We all talk about conflict resolution, but very few of us actually work towards conflict avoidance. Prevention is always better than cure.', he expressed.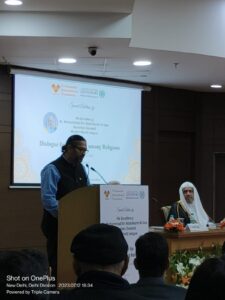 Savio Rodrgues
'Dev Borem Korum (God bless you all)', said Rodrigues, in his native language of Konkani.