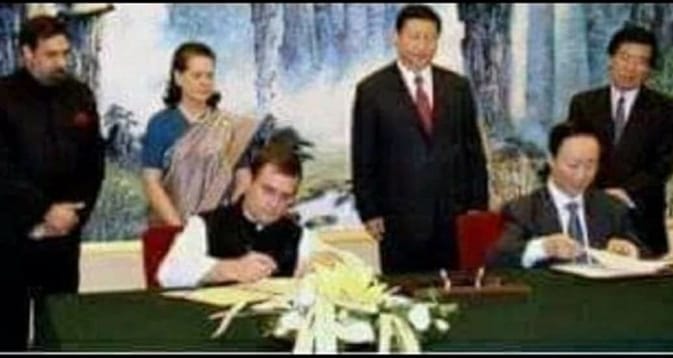 On August 7, 2008 Rahul Gandhi, General Secretary of the Indian National Congress (INC) and Wang Jiarui, Director, International Liaison Department of the C Communist Party of China (CPC) signed a Memorandum of Understanding (MoU) in the presence of the President of INC Sonia Gandhi who was also the Chairperson of United Progressive Alliance (UPA) I at that time, President of China, Xi Jinping who was then the Vice-President of China and Congress leader Anand Sharma. Also present at the signing was India's Ambassador to China Nirupama Rao according media reports:
GoaChronicle.com in its investigations on the issue have put out evidences that ILD-CPC is a covert foreign intelligence arm of China. Continuing with our investigations GC Founder & Editor-in-Chief, Savio Rodrigues spoke exclusively with RV Subramani retired government officer who worked as an Under Secretary,  Ministry of Home Affairs (MHA) in 2008 when Indian National Congress inked a Memorandum of Understanding (MoU) with the International Liaison Department of the Communist Party of China.
GC: Congress in 2008 signed a MoU with the International Liaison Department of Communist Party of China? Our investigations reveal that ILD-CPC is the covert foreign intelligence arm of China. What are your views?
RVS: It is indeed in the knowledge of our intelligence agencies that the International Liaison Department of the Communist Party of China (ILD-CPC) is the covert foreign intelligence arm of China. There are several institutional mechanisms within the government system which had at the extant time had knowledge about this. 
Furthermore in the countries in our neighbourhood, intelligence agencies work under the oversight of their respective defence forces. Like the Director General – ISI of Pakistan is always a serving Army Officer. 
In case of China there is no difference between Party, the Government and the defence forces namely PLA. And the party liaison department is under a single authority oversight. 
In the Internal Security Division we used to receive inputs from many sources besides a well compiled periodical digest from an institution called Joint Intelligence Committee. If my memory serves me right, this intelligence wing was a party of the Chinese Army PLA which later was separated as ILD to mislead that this Department of Communist Party of China has nothing to do with intelligence gathering.
GC: Congress claims that the MoU signed was party-to-party between Congress and CPC not India and China. Are party-to-party MoUs not vetted by the Indian intelligence and Indian government? Has this document been vetted by the IB or RAW?
RVS: It would be specious to state that this was a party to party MOU. Further let us accept that this was a party to party MOU. Then they should have shared it on public domain. Even now the contents of the MOU are not available on Public Domain. 
Further why did Congress not get it vetted by our intelligence agencies. Surely with the institutional information with our intelligence agencies, no intelligence officer would have cleared it.
Further even simple collaboration agreements like FIPB proposal, permission to operate within the counrty for media and other critical operations by foreign players whether it was Al Jazeera (cleared by PC later annulled by this Government), Blackberry case (Director IS-II honey trapped and caught by CBI in December 2010), Western Union permission to operate were all cleared by MHA and its agencies.
In FIPB an officer of IS Division is present in the meetings. These relate to enterprise to enterprise commercial arrangements.
All NGOs receiving foreign contribution are regulated under FCRA. Any inter governmental MOU like JWG, MLAT or even Extradition Treaty are cleared by MHA & its agencies.
In essence every such arrangement of bilateral nature where a foreign party whether Government or other than Government is involved gets vetted for its content by agencies. This never came under the radar is quite surprising in formal sense. Because ILD is de-facto a Government of China outfit although they might have sought to suppress this fact.
GC: What are the implications to India by the 2008 MoU and why is Congress reluctant to make the document public and why has the Indian government then and now not been able to access this MoU that Sonia Gandhi even spoke off in an interview to Xinhua?
RVS: My information is that the Indian Ambassador to China of the time had attended the ceremony when the MoU was signed by Rahul Gandhi, General Secretary of Indian National Congress and Wang Jiarui, Director, ILD-CPC. Hence for public at large it appeared a formal government function. First the the protocol: Ambassadors attend meetings of much higher profile when generally Heads of the Government or Heads of State are visiting or there is a summit level event or a big event like Heads of a particular domain, ministers of a block are meeting in the capital. I do not know what was the status of the signatory of the MOU from the INC for the Ambassador to grace the occasion. Normally the protocol extended to such visiting MPs by the Indian Embassy are to assign an officer level personnel posted in the Indian Embassy.
More importantly, did the Ambassador get a copy of the MOU? Is there a copy retained in the Indian Embassy records? Was the MOU again transmitted to EA Division of MEA or any other Division. Did the MEA get the clearance of the intelligence agencies oblivious to MHA's knowledge. Still in the next periodical digest of JIC it would have come out, which however it did not. There are personnel of agencies posted in Indian Embassy China. Did the Ambassador get the MOU vetted by one of them at least. Further did the Ambassador take the clearance of NSA at least.