Most people know me either as a businessman/entrepreneur or as an author/columnist. Not many know the fact that I have also been a stock market and mutual fund investor for the last 21 years and have not done too badly.
In equities, in the case of large caps and midcaps, I mostly buy asset-backed companies that are already profitable for at least 2-3 years, and in sectors with good growth potential. I have made exceptions in the case of sunrise sectors such as EVs. For small caps, the standard rules do not apply, as companies in growth sectors may not yet be profitable.
Before I move on, I would like to make a disclaimer. When the Hindenberg Research report came out on January 24, I already owned 280 shares of Adani Ports and Special Economic Zone Ltd. (APSEZ), then valued at about ₹2.10 lacs. I won't say anything about the Hindenberg report because much has already been written in mainstream media and social media, and also discussed in classrooms of WhatsApp University over the past nine days.
I have never ever invested in any other Adani Group companies and I have no other dealings with the group. When all of the group company shares starting getting hammered downwards as a result of the Hindenberg report and the pent-up emotions against Gautam Adani (which I shall discuss later), not only did I buy shares of APSEZ almost daily as it kept falling, but for the first time, I also invested for the first time in Ambuja Cements. Therefore, if the prices of these two stocks go up, I will gain.
Let me move on by sharing some data. Have a look at this table.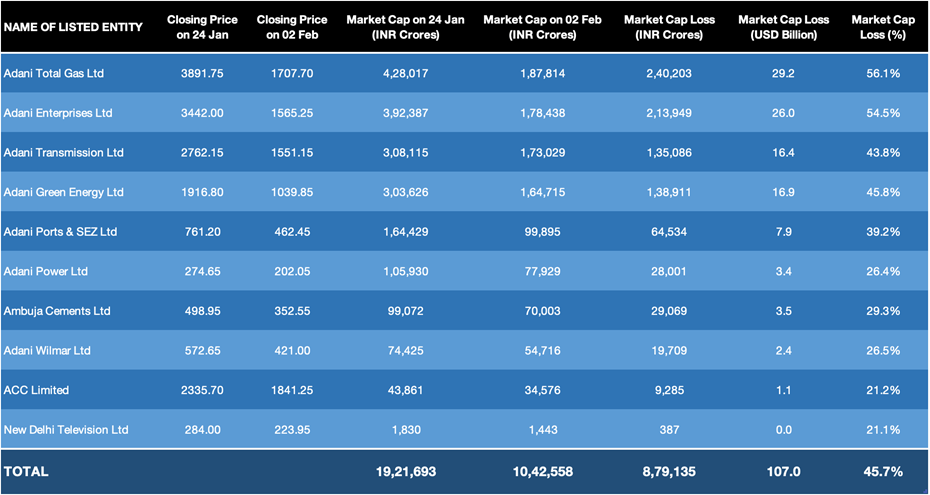 As you can see, the 10 listed entities of the Adani Group have lost between 21.1% and 56.1% in market value in the past nine days.
The total market value of all 10 stocks has dropped by almost 46% with a net loss of almost ₹8.8 lac crores (₹8.8 trillion) or $107 billion.
Gautam Adani has dropped from No.3 on the Forbes Rich List to No.16 now. If the rout continues at the same pace for another five trading days, he will come down to No.33. That will probably go down in history as the biggest ever erosion of an individual's wealth in two weeks.
In my limited understanding, the Adani stocks have fallen primarily due to four reasons:
Some of the group companies (especially Adani Total Gas, Adani Transmission, and Adani Green Energy) were widely considered to be highly overvalued. This is the reason I never invested in any of these stocks.
The group itself is considered to be highly over-leveraged.
A huge percentage of India's population is jealous of Adani's meteoric rise, especially in the past 8-10 years. Congress leader Rahul Gandhi, as well as other opposition leaders, have been attacking Gautam Adani in many rallies and speeches, even though almost all of them invite him to invest in states ruled by them.
An attack on Gautam Adani is seen as an attack on Prime Minister Narendra Modi, as it is widely believed (especially by Modi-haters) that the Adani Group has been favoured by the Modi government in policymaking and otherwise. Many of my own close family members say that Modi has "gifted" national assets to Adani. I won't comment further on this, apart from the fact that, had this really been the case, would Adani's competitors have sat quietly and not challenged the so-called "gifting" in courts÷
Does this mean that all Adani stocks should have been hammered in the way that they have been? I believe not, especially APSEZ and Ambuja Cements.
APSEZ is India's largest port developer and operator with 13 ports and terminals in Gujarat, Maharashtra, Goa, Kerala, Andhra Pradesh, Tamil Nadu and Odisha, with 538 MMT of operating capacity, and about 30% share of India's total port traffic. It also possesses the largest container handling facility in India, at over 11 million twenty foot equivalent units (TEUs).
In October 2021, the company (51%) entered into a joint venture with John Keells Holdings (34%) and Sri Lanka Port Authority (15%) for the construction of the Colombo West International Terminal-II with a container handling capacity of 3.5 million TEUs. Construction began in November 2022.
In July 2022, APSEZ (70%) in partnership with Israeli chemicals and logistics group Gadot (30%) won an Israel government tender to buy the Haifa Port, a major trade hub on Israel's Mediterranean coast, for about $1.18 billion. Haifa Port can handle about 20 MMT of cargo plus 1.46 million TEUs of containers per year. The Government of Israel handed over the Haifa Port to Adani Group earlier this week.
Adani Ports and Special Economic Zone Ltd. also owns the Mundra Economic Hub (MEH) on the Western coast of India's Gulf of Kachchh, in the industrialised state of Gujarat. Spanning over more than 36,000 acres, the MEH comprises the largest multi-product SEZ in India, a Free Trade and Warehousing Zone and a Domestic Industrial Zone.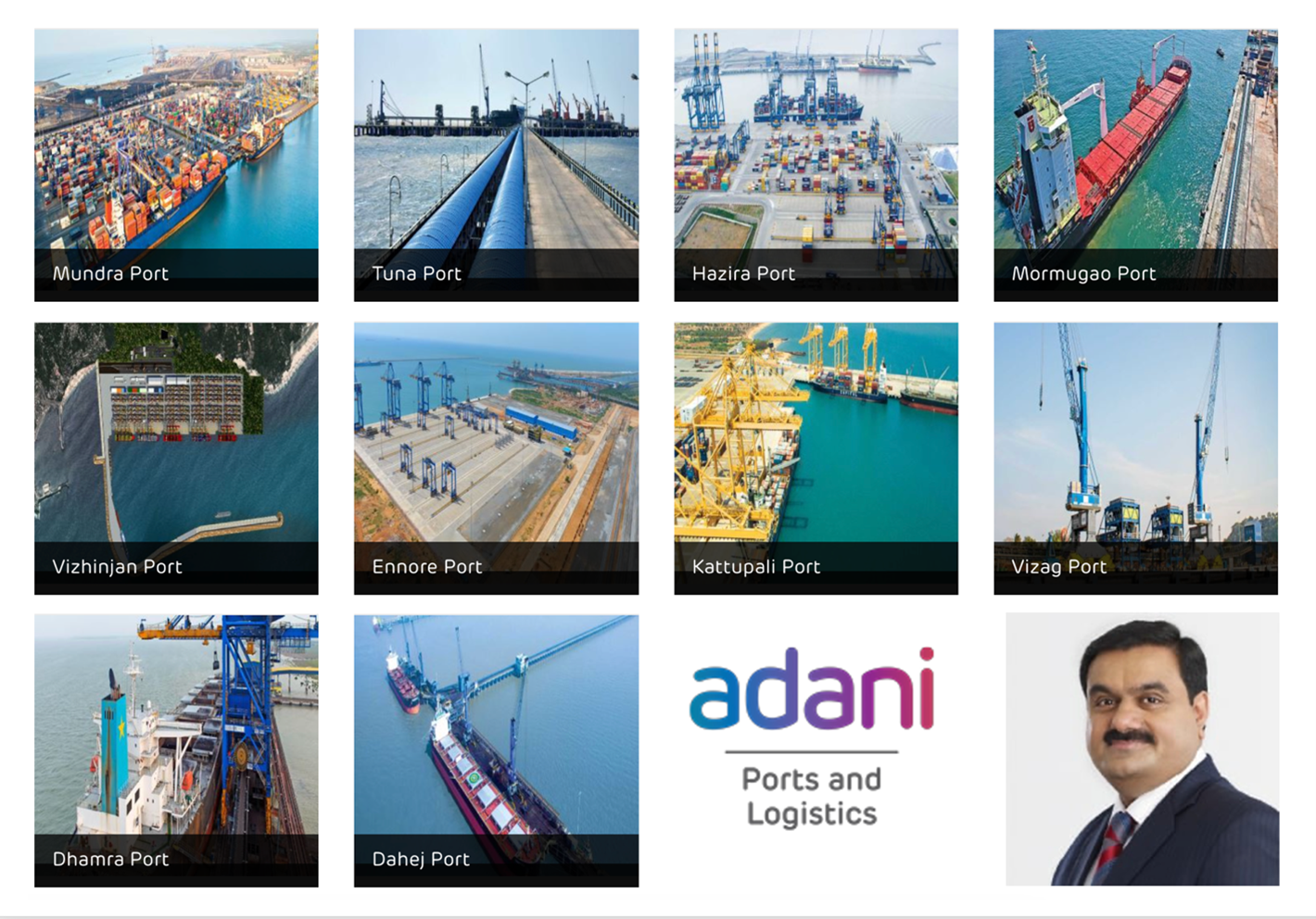 The company also owns three logistics parks at Patli in Haryana, Kila-Raipur in Punjab, and Kishangarh in Rajasthan, and one under construction at Mumbai. With the ability to handle 500,000 TEUs annually, the Adani Logistics business is growing at a rapid pace. It has signed a deal with Flipkart for the construction of a 534,000 square feet fulfilment centre in its upcoming logistics hub at Mumbai.
APSEZ also provides Dredging and Reclamation solutions primarily for port and harbour construction. It operates a large fleet of 23 dredgers and of the largest capital dredging capacity in India. Besides owning dredgers, the company has a large fleet of support vessels and equipment such as Multi Utility Crafts, Survey Vessels, Floating Cranes, Jack-up Barges, etc.
The company's first port and what is still its flagship – the Mundra Port – started getting built in October 1998, so more than 24 years' ago! Many of the company's other ports and terminals are well over 10 years old.
What is the cost of replicating all of these assets and businesses? Can any of the self-styled experts on social media, or in various opposition parties, calculate this? I don't think so!
Having been a consultant to a port project in South India back in 2009, let me tell you that it is extremely difficult to get all the permissions – and PUBLIC APPROVAL – to build a port. And even if you get the buy-in from the affected fishermen, you still have to contend with turtles.
The knocked down market value (market cap) of APSEZ as on February 2nd is just under ₹1 lac crore (₹1 trillion). Even if Mukesh Ambani or the Tatas or L&T invests this amount of money, it will take them minimum 10 years to replicate the infrastructure that APSEZ has, by which time APSEZ will be at least 2.6 times its current size @ a conservative CAGR of 10% p.a. Furthermore, neither of these entities will ever be able to acquire 36,000 acres of land at a strategic location such as Mundra.
Smart investors understand this and are buying the shares of APSEZ as it is falling. It is the less intelligent or the less aware investors who are selling. Or those with an agenda – an anti-Modi agenda – such as the "so-called American research firm" or a well-known Indian lawyer cum politician known as "PC".
I am talking specifically about APSEZ and not any of the other Adani Group companies. As far as Ambuja Cements is concerned, I have bought shares in the past week based on research done by others whose judgment I trust – so I cannot tell you why you should buy shares in this company.
Time will tell who wins the Hindenberg vs. Adani battle, but I have no doubt that APSEZ will give super returns to anyone who has accumulated this stock on dips after 26th January.