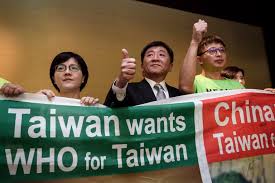 Geneva: The World Health Organisation (WHO) stood firm on its stand on Taiwan that it recognises only one representative of China that is the People's Republic of China.
Answering to a question raised by the Editor-in-Chief of GoaChronicle, Savio Rodrigues, during the Global Media briefing on April 4, 2020, Steve A Solomon, Prinicipal Legal Officer, WHO International, Constitutional & Global Health Law stated, "Some 49 years ago the UN and WHO decided that there was only one legitimate representative of China within the UN system and that is the People's Republic of China. That decision still stands. WHO is also a specialised agency of the United Nations and as such aligns with the UN and must do so coherently.
Solomon further asserted, "We know there are also questions about Taiwan's participation in WHO expert meetings and questions about their participation in the World Health Assembly. WHO is an intergovernmental organisation, meaning that countries decide how the organisation is structured and on its policies.
The work of WHO staff, in line with our constitution, is to promote the health of all people everywhere and to assist with but not decide upon issues at the World Health Assembly. So regarding expert meetings on technical health matters last year Taiwanese experts were included at eight expert meetings and there were six other informal technical meetings. This year in response to COVID-19 Taiwanese experts are involved in key groups and networks. We've had telephone conferences with their CDC, Dr Van Kerkhove and myself, and will do so again and, as noted, their IHR contact point links their CDC directly to WHO headquarters. In the COVID-19 response especially they have had notable successes and we appreciate their contributions."
Commenting on Taiwan's attendance at the World Health Assembly, Solomon, expressed, "Regarding the World Health Assembly, the next one will be in two weeks, starting on May 18th. The involvement, if any, of Taiwanese observers in that assembly is a question for the 194 governments of WHO. This is not something that WHO's Secretariat has authority to decide and indeed two countries have already formally proposed that member states consider this matter at the World Health Assembly.
He further elaborated that it is not the role of WHO staff to be involved in geopolitical issues. In fact our principles of neutrality and impartiality exist to keep us out of those issues and to promote the role of evidence-based science in all our work.
"Our role, even when we operate in sensitive political areas or in complex humanitarian emergencies, is to follow the rules and policies that member states set out and, working within them, to strengthen health systems and access to healthcare for all people, everywhere," Solomon revealed.