10 years ago, on 27th September, 2013, Rahul Gandhi had torn a copy of an ordinance during a press conference of Congress leader Ajay Maken. If that ordinance would have become a law, then Rahul Gandhi would not have been disqualified from the Lok Sabha, after he was convicted by the Supreme Court of the country in the defamation case which is the talking point in the country right now.
The Supreme Court, on 10th July, 2013, had, in its historic decision, declared Section 8(4) of the Representation of the People Act, 1951 as unconstitutional. This Section gave the liberty to any people's representative to remain in their position while an appeal was pending in court. This verdict of the apex court of India paved the way for immediate disqualification of a representative from the Parliament, if he or she was convicted with 2 years of punishment.
It was this law which the erstwhile Manmohan Singh government wanted to turn, and hence, had brought in an ordinance aimed at the same.
Now, as per the historic 2013 decision of the Supreme Court, Rahul Gandhi, former Congress MP from Wayanad, Kerala, has been disqualified as a member of the Lok Sabha, following his conviction in the criminal defamation case over his statement made in Gujarat, wherein he had said that all people with the surname 'Modi' are thieves.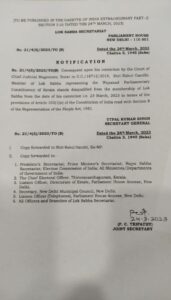 Notification of Gandhi's disqualification
Amidst all this, a left-wing meltdown can be seen all over social media, with hashtags like #BlackDayForIndianDemocracy trending on Twitter. Once again, the left-lobby can be seen crying wolf and calling PM Modi a 'dictator' and a 'fascist', while comparing him with Adolf Hitler.
But who is going to make them understand that their beloved 'youth' leader Rahul Gandhi, in a despicable attempt to tarnish the image of PM Modi, he has insulted the whole Modi community. And the same Rahul Gandhi, who keeps on weaving falsehoods around how the 'backward communities' of India are persecuted and wronged, has labeled an OBC community as 'thieves' in totality.