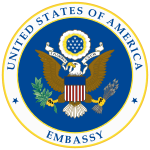 Panjim: The US Embassy in India has evacuated 63 nationals of the United States that were stranded in Goa due to the 21-day lockdown ordered by the Indian government on account of the coronavirus pandemic.
The Goa government has been coordinating with the Centre to ensure foreign tourists stranded in Goa are able to return back to their countries of domicile. 
Goa government has so far evacuated over 2023 foreign tourists during the 21-day lockdown period.