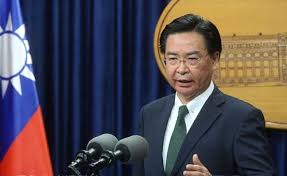 Geneva: Taiwan on Monday withdrew its bid for observer status at a meeting of World Health Organization (WHO), saying the institution yielded to pressure from China in not inviting the island to attend the World Health Assembly.
Foreign Minister Joseph Wu told reporters that countries want to use the shortened two-day online meeting to concentrate on containing the pandemic, and suggested that the proposal for Taiwan to join be taken up later this year.
"After careful deliberation, we have accepted the suggestion from our allies and like-minded nations to wait until the resumed session before further promoting our bid," Wu said.
"The Ministry of Foreign Affairs expresses deep regret and strong dissatisfaction that the World Health Organization Secretariat has yielded to pressure from the Chinese government and continues to disregard the right to health of the twenty-three million people of Taiwan. The people of Taiwan abhor the two-faced behaviour of the Chinese government, which claims to care for their health and welfare while actually seeking to deprive them of their right to health at every turn."
The scrapping of the vote came as a relief to WHO, that would prefer to focus the annual meeting on the global coronavirus response.