In the Lohit district of the northeastern state of Arunachal Pradesh, lies the Mekailiang village, in the Tezu Tehsil, where lives a 65-year-old widow, Sodyanglu Polong, a follower of the indigenous Mishmi faith. The Mishmi tribe is predominantly found in Arunachal Pradesh and believes in animism.
But now, this age-old tribal faith has come under attack in Mekailiang, wherein Polong is fighting all alone, in order to prevent her traditions and culture from getting eradicated, because of the rampant proselytization of the people of her tribe by the Presbyterian Christians in the village.
On Monday, September 18, Sodyanglu Polong, wrote a letter to the pastor of the Presbyterian Church in Tezu, urging him to ensure that his Church does not hurt the religious sentiments of the old widow. The letter mentions, how Polong's daughter-in-law, Pakshi Yun, was converted to Christianity by the Presbyterian Church missionaries, and was baptized by them, a day prior to her writing the letter to the pastor, that is, on Sunday, September 17, in the premises of Presbyterian Church in New Mekailiang.
Polong then goes on to mention how on Wednesday, September 13, her puja room, in her own house, was used as a prayer centre by a team of missionaries of the church, without taking her due permission, and without her knowledge. The letter mentions how her indigenous faith-puja room was desecrated by throwing away disrespectfully, the sacred skulls of sacrificed animals, from there, hurting the religious sentiments of Sodyanglu, and disrespecting the beliefs and traditions of her faith.
Polong collecting the skulls thrown away by the missionary team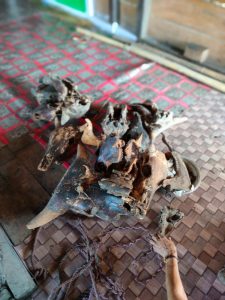 The sacred skulls of sacrificed animals, thrown away by the missionaries from Polong's puja room
Polong said in the letter that even though she is the mother-in-law of newly converted Pakshi Yun, she does not have a problem with the choice Yun has made, but the way her conversion to the Christian faith brought disrespect to her own indigenous faith, culture, and traditions, certainly is not praise-worthy.
At last, Polong has urged the Presbyterian Church of Mekaliang, that the missionaries make sure that no prayers or activities related to the Christian Church should take place inside her house, without her permission.