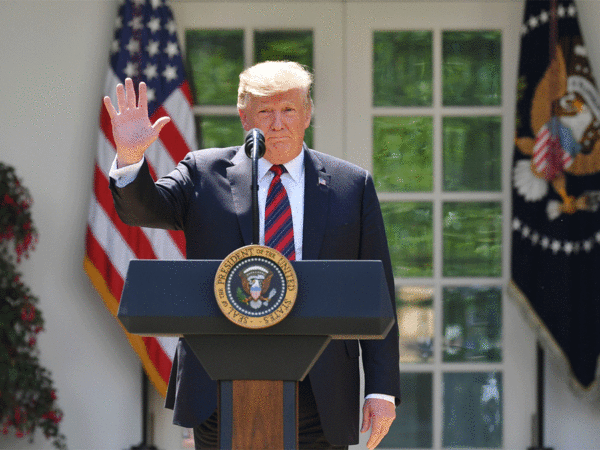 There are many aspects of Donald Trump's personality that I personally do not like. 
I often find him brash, fickle and sometimes someone who shouts out his mouth without being diplomatically correct.
There are many aspects of Donald Trump's role as the President of United States that I have not connected with, I know he likes India because of an agenda. I know he is cozying up to Narendra Modi because he needs NRIs in the US to vote for him and has interests in India for US business allies.
He is a tough cookie to like. You can either like him or hate him. You cannot ignore him.
I don't hate him and I don't like him but I certainly cannot ignore him because he is the President of the US. On some issues, he shares exactly the same views I share. 
I appreciate his stand against China and his continuous focus on exposing China's role in the origin and spreading of the Wuhan virus, globally.
It was only yesterday he tweeted, "All over the World the CoronaVirus, a very bad "gift" from China, marches on. Not good!"
He has walked the talk with regards to the World Health Organisation (WHO). He stopped US funding to this defunct and non-accountable organisation that has been toeing the line and words of China under the leadership of its Director-General Dr Tedros Adhanom Ghebreyesus.
Trump in his letter to Dr Tedros clearly stated that the World Health Organization has been curiously insistent on praising China for its alleged "transparency." You have consistently joined in these tributes, notwithstanding that China has been anything but transparent. In early January, for example, China ordered samples of the virus to be destroyed, depriving the world of critical information. Even now, China continues to undermine the International Health Regulations by refusing to share accurate and timely data, viral samples and isolates, and by withholding vital information about the virus and its origins. And, to this day, China continues to deny international access to their scientists and relevant facilities, all while casting blame widely and recklessly and censoring its own experts.
He tore Dr Tedros apart in that letter that the WHO DG did not want to officially comment on it to the media. Trump stated, "On January 21, 2020, President Xi Jinping of China reportedly pressured you not to declare the coronavirus outbreak an emergency. You gave in to this pressure the next day and told the world that the coronavirus did not pose a Public Health Emergency of International Concern. Just over one week later, on January 30, 2020, overwhelming evidence to the contrary forced you to reverse course.
On January 28, 2020, after meeting with President Xi in Beijing, you praised the Chinese government for its "transparency" with respect to the coronavirus, announcing that China had set a "new standard for outbreak control" and "bought the world time." You did not mention that China had, by then, silenced or punished several doctors for speaking out about the virus and restricted Chinese institutions from publishing information about it."
The only leader with a courage of conviction to call out China's lies and the WHO cover-up has been Donald Trump. No other leader in the world has been so aggressive in demanding for justice for the people of the world dead and infected due to the coronavirus pandemic.
In fact earlier this week Trump believing that Americans have more reason than ever to understand the nature of the regime in Beijing and the threats its poses to American economic interests, security and values owing the Chinese's Communist Party's (CCP) response to the coronavirus pandemic. The White House published a report in accordance with the FY2019 National Defense Authorization Act, United States Strategic Approach to the People's Republic of China, detailing a whole-of-government strategy with respect to the People's Republic of China (PRC).
As the President's National Security Strategy states, it is time the United States "rethink the failed policies of the past two decades – policies based on the assumption that engagement with rivals and their inclusion in international institutions and global commerce would turn them into benign actors and trustworthy partners." 
The report illustrated how the policies and actions of the Chinese Communist Party have compelled the United States to adopt a competitive strategy, guided by a return to principled realism.
Some people point out that Trump is a failure because he could prevent the spread of coronavirus in USA. He was not serious about containing the virus. He and Dr Fauci did not see eye-to-eye on numerous issues.
While WHO, China and even Dr Fauci denounced the use of Hydroxychloroquine (HCQ) based on scientific studies they claim to be the truth. Trump has been touting that HCQ is the prophylactic for COVID-19 and that he himself has been taken it.
Trump had ordered large quantities of HCQ from India. ICMR in India however, differ from the studies propagated by WHO. It believes HCQ can be used but under guidance and understanding of preexisting conditions of a patient.
Trump is a gun-slinging cowboy. He has always been this way and he will always be this way. So when Twitter decided to do a fact-check on him and appear to corner him. It was a call to duel between Twitter and Donald Trump. And this cowboy is always ready for a gunfight.
So this morning he signed an Executive Order on Preventing Online Censorship. He told media, "The move was to defend free speech from one of the gravest dangers it has faced in American history. A small handful of social media monopolies controls a vast portion of all public and private communications in the United States. They've had unchecked power to censor, restrict, edit, shape, hide, alter, virtually any form of communication between private citizens and large public audiences."
Trump and I share common enemies right now. My enemies are what I see as enemies of my nation.
China for one is a nation that needs to be declared a rogue nation and must be made a pariah in the global community. 
Twitter is biased. It has a clear left-leaning. The manner in which they verify accounts of some of the vilest commentators on social media is shocking. Twitter allows for continuous lies and targeting of Indian nationalists.
Twitter must be held accountable for its biased views and actions against Indian nationalists on its social media platform.
India has not taken Twitter and other social media platforms to task because typical to Indian nature, they are more courteous and diplomatic. US has done that few hours after Twitter decided to fact-check Trump.
An enemy's enemy is a friend. That is the adage I follow and I extremely glad that at this moment, Trump is going no holds barred in his attack on China, WHO, Twitter and other social media platforms.
Trump is not someone who will take anyone's dump. And in this situation I cannot ignore him.