In a small, arid, and rugged village, Kali Beri, situated in western Rajasthan's Jodhpur, there are a number of kuccha houses, built with great difficulties, on broken roads, covered with dust, stones, and pebbles. This is where 350-400 families of the Hindu refugees from Pakistan, surrounded with poverty, fear, and uncertainty, reside. These people fled their home country, Pakistan, because they were a persecuted minority in the nation, and were coerced to accept Islam in order to live a comfortable life.
We all know, that how stressful it can be to even shift to a new house, but these Hindus not only left their homes, their family members, their jobs, their sense of settlement, but also their country, because converting to Islam was not even an option to ponder upon, and protecting their own religious identity, that is being a Hindu, was the only priority.
The 2500-2600 Hindus in this settlement are being supported by the Universal Just Action Society (UJAS), synonymous to the widely-known community-based organization, Seemant Lok Sangathan; and its Founder and President, Hindu Singh Sodha.
UJAS advocates for Pakistani immigrants in India who are fleeing religious persecution, and who, despite escaping dangers in Pakistan, are still denied basic human rights in India. Among these are the rights to citizenship, rehabilitation, livelihood, and education. UJAS' mission is to aid these Pakistani refugees in obtaining justice by raising awareness, empowering refugee communities, and pressuring the government to provide them with legal rights.
UJAS Founder Hindu Singh Sodha is an activist for Pakistani minorities living in India. Being a Pakistani immigrant himself, he gained Indian citizenship while attending law school in Jodhpur, Rajasthan in 1977, and has been advocating for other Pakistani immigrants ever since. He has founded two community-based organizations, Pak Visthapit Sangh and Seemant Lok Sangathan, and one non-governmental organization, Universal Just Action Society, since he first began his advocacy work.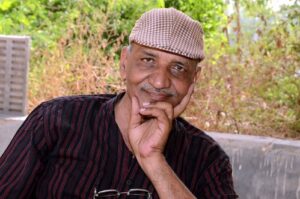 UJAS Founder Hindu Singh Sodha
One of Sodha's greatest accomplishments was in 2005, when he successfully pressured the government to grant 13,000 Pakistani refugees, Indian citizenship. He advocates for all Pakistani minorities, working primarily with Hindu-Pakistanis living in settlements around the India-Pakistan border and throughout Rajasthan, Gujarat, Haryana, Delhi, and Madhya Pradesh.
In order to get a deep insight into the lives of the Hindu immigrants from Pakistan, living in Kali Beri, Sonakshi Datta of GoaChronicle visited the settlement, and had a detailed conversation with one of the settlers, Govind Singh Bheel.
Bheel said, 'I had come to India from Pakistan back in the year 1997. The religious persecution of the Hindu minority in Pakistan is known to the world, and nothing is a secret. But after we Pakistani Hindus move to India, multiple challenges related to gaining citizenship, employment, children's education, etc. Slowly and steadily, the Seemant Lok Sangathan, founded by Hindu Singh Sodha, has worked for Pakistani Hindu immigrants here.'
'For the immigrants who had come here back in 1971, the power to provide citizenship was given to the state government, which rested with it till 1984, after which it was taken back. Hence, all the people who came to India after 1984, and even earlier, faced great difficulty in getting Indian citizenship. Due to the efforts of Seemant Lok Sangathan, we could get the citizenship in the year 2005.', he added.
Bheel informed, 'Even calling ourselves refugees is difficult for us because the government has not recognized us as the same. Back in 2005, the power to give citizenship was given to the district collector, and that was when the collector, after organizing open camps, had given Indian citizenship to 7500 people in Jodhpur district. This was the same time when in different districts of Rajasthan like Barmer, Jaisalmer, Ganganagar, and Bikaner, a total of 13500 people had been given Indian citizenship.'
He further said, 'The government has, till now, not made any policy for those, who had been given the citizenship back in 2005, under which they could have a place to live, employment, settlement, or their children could receive formal education. No government has taken any concrete steps.'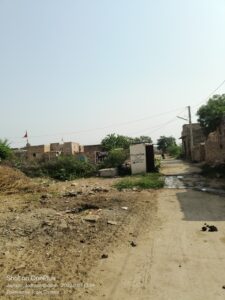 A road inside the Kali Beri settlement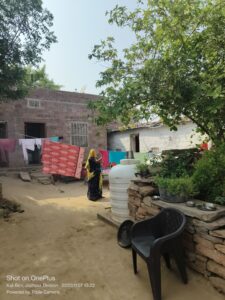 A female Hindu immigrant from Pakistan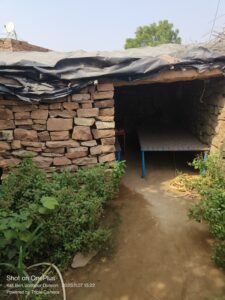 A glimpse of how the Hindu settlers live
'Since 2017 till now, the power to give citizenship rests with the district collectors, but under the current circumstances, and the current regime, no such order to organize any open camp to give citizenship to the immigrants, has been issued. So, what actually happens is, when these immigrants try to get the citizenship officially, they get enticed in the obnoxious web of corruption.', revealed Bheel.
'Not a single immigrant gets the citizenship certificate without paying money in return. Back in 2005, 13500 people were given citizenships within 1-1.5 months, but now, it is around 7 years, but not even 6000 citizenships have been given. This is because only those who give money are given citizenship in return. Those who do not pay do not receive the certificate', he said.
'We have so many people who came to India 20-22 years ago, and have applied for the citizenship 4-5 times, but only because they do not have the money to pay, they do not get the citizenship. Apart from this, those who have come here after 2014, are asked to get their passports renewed for the citizenship, which is a big headache for the immigrants.', explained Bheel.
Govind Singh questioned, 'We would like to ask the Indian Government, why does this passport renewal remain important, which leads to the Pakistani embassy's income increasing? If people could earlier get citizenship without passport renewal, what crime has been committed by those who came in later?'
'The current government has not done a single thing for the immigrants, be it related to their employment, housing, education, or citizenship. No positive initiative has been taken.', he added.
Govind Singh Bheel also explained how their constituency's MLA from BJP, who has been in power for the last 15 years, Suryakanta Vyas, has not even once, come into their colony to see how the refugees are doing, and has not carried out a single developmental project, be it the laying of roads, or related to electricity and water supply. Speaking of the state government, he said that even though kuccha settlements are being developed under the 'Prashasan Shehro Ke Sang' scheme, the colony of the Pakistani Hindu immigrants was left out.
Govind Singh Bheel talks about the ordeal of Hindus from Pakistan in India
Voicing the feelings of all the immigrants in Kali Beri, he said that they are now fed up with both the BJP and the Congress, as neither of them has done any good for the helpless refugees. While the Congress does not consider these immigrant Hindus its voter-base, the BJP knows that they are bound to vote for them, and therefore, both the parties continue to play politics on the issue of Hindu refugee welfare and citizenship.
On being asked as to what led to Bheel's decision of moving to India in 1997, he revealed that he belonged in a village in Rahim Yar Khan in the Punjab province of Pakistan, and back in those times, the effects of the Ram Mandir movement in India could be seen in Pakistan. In his village, all the Hindu mandirs were desecrated and destroyed by the Muslims, and Hindus were selectively pulled out of buses and beaten and tortured.
And in the Rahim Yar Khan city area, Muslims forcefully entered Hindu houses, threw the latter out from their own homes, and kidnapped Hindu women.
Bheel added how the Pakistani government is weak, and always has been the same, and the real power is yielded by the common zamindars in the country, who exert their influence. And poor Hindus usually work on their land. Every single day, Hindus are persecuted for their religious identity, and are tortured and killed, and Hindu women are kidnapped, married to forcefully, and converted to Islam. And out of every 100 such cases, only 3-5 are reported by the media. This is the miserable condition of the Hindus in Pakistan, because of which their population has plummeted since independence. While at the time of the partition, there were 22 percent Hindus in Pakistan, there are a mere 1-1.5 percent now.
Talking about the lives of the Hindu immigrants in Kali Beri, Govind Singh stated that while the men work as construction workers, cotton plantation labourers, or work in the stone quarries nearby, the elderly and the women devote their time in looking after the children and doing daily household chores.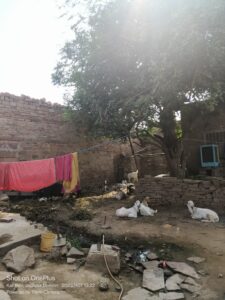 Some goats Bheel has managed to rear over the years for fresh milk in the settlement
Even though challenged with great difficulty as Hindu refugees in India, the determination and perseverance seen in the people of the settlement remains. In order to shape a better future for their children, the refugees, with the help of the UJAS foundation, were able to get a school, Meera Sansthan, established in their settlement, back in the year 2001-2002, as since 1997, when Govind Singh Bheel first moved to India, there was no option of education for the young ones till the creation of the school.
Today, a total of 395 children, study here, and the school has recently been promoted to being upper primary from primary. But unfortunately, the school faces the same fate as the settlement of the refugees, being ignored as if it does not exist, or as if the children do not deserve to receive education. The authorities do nothing in order to develop the school or assist it financially. And while there is a vacancy of 14 teachers here, only 2 are currently available.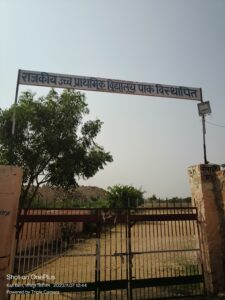 Meera Sansthan
These Hindu immigrant families have walked a long road of struggle, as since 1997, people have lived without roads, water, and electricity supply till 2017, the year when such facilities were first made available to them. Prior to the availability of electricity in 2017, this area in Kali Beri was the worst hit by diseases like dengue and malaria.
'While both the BJP and the Congress continue to ignore the basic human rights we deserve, by simply mentioning our welfare in their manifestos, but doing nothing in real, I can easily say that if Hindu Singh Sodha were not there, we would not have gotten the citizenship till date.', expressed Govind Singh Bheel.
Despite every day being a gigantic challenge for the Pakistani Hindu refugees in Jodhpur, who do not have a home to call their own, or a country they can call theirs, one, and the most precious possession remains with them, that is Sanatana Dharma, with which, lives on a hope of a better tomorrow, which will help them live a life with dignity. It is true that these people want, and should undoubtedly get, basic human rights like a home to live in, employment, education, and two square meals a day; but what they deserve the most, is a life of dignity, a life wherein they do not feel lonely.
They do not want crores of rupees or luxurious possessions, what these people want is a country they can call home, and a simple life, away from insecurity and fear, as they are ready to forsake everything for Sanatana Dharma, but will not abandon their beloved religion for all the riches in the world.