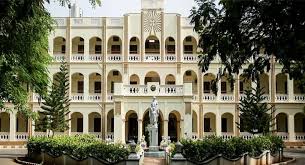 Chennai: The All India Christian Forum (AICF) has extended full support to the victim of a sexual harassment case by Father Xavier Alphonse that happened at the Loyola College, Chennai.
The victim is a senior member of the faculty who was sexually harassed by Father Xavier Alphonse,  former principal of the Loyola College and former Director for Loyola College Alumni Association.
With no support to her fight for justice from the Loyola College, the victim approached the Madras High Court in 2016. The High Court issued notices to the accused in the sexual harassment case but till date no response has been submitted by the accused in court. And the case has not moved forward for the last four years.
Speaking on the issue, Savio Rodrigues, president, All India Christian Forum, stated, "Sexual abuse and sexual harassment is an evil in the Catholic Church. It is a grave crime in any institution anywhere in the world. It needs to be dealt by law firmly and swiftly. Fr Xavier Alphonse assumes that under the protection of a powerful institution of the Jesuit Order – Loyola College, Chennai, he is safe. This attitude is behind the reason there has been no reply to High Court notices for 4-years from the accused priest and from the Loyola College as well. We believe in the judiciary, therefore we will use our legal expertise to ensure that the victim gets justice."
Rodrigues expressed that All India Christian Forum has decided to extend its support to the sexual harassment victim because she fight a powerful institution of the Catholic Church. It is not a normal practice for a middle-class professional woman to fight a powerful institution but her fight is for her dignity and self-respect. Her family reached out to us for support legally, therefore, we decided to take up the case and fight for her to get justice. Loyola College Chennai is a powerful institution. It has a powerful management and alumni that have remained quiet on this case, even though the victim is known to most of the senior members. It is sad and disappointing that the Loyola Management and Loyola Alumni Association decided to take a questionable stand of not supporting the victim of sexual harassment, expressed Rodrigues.