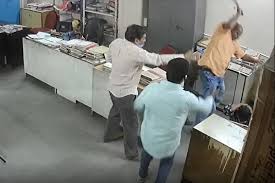 Nellore: In a shocking and appalling incident in Nellore, Andhra Pradesh Tourism Department's Deputy Manager C Bhaskar physically assaulted a woman colleague in the office with rod. 
CCTV caught the incident. The culprit C Bhaskar has been arrested by the AP Police.
CCTV footage shows Bhaskar walking into a room, and then rushes towards Usha, who is sitting behind a desk in the right corner of the frame. He pulls her by her hair, making her fall to the ground. Bhaskar is then seen grabbing a rod and hitting Usha, who is still on the floor with Bhaskar restraining her by her hair.
While the woman colleague in the room walked away from the scene, it was a male colleague who came to the rescue of Usha .