Recommerce in association with Kianna media ventures is holding a third edition conference of sustainable clothing & textile recycling focusing on textile recycling, reuse, upscale and circular economy. The B2B conference which is being held for a day which help in networking bringing together manufacturers, experts in waste management, people who want to innovate through technology, researchers, policy makers, stakeholders, investors along with the participants.
A category defining startup focusing on building a sustainable reverse commerce ecosystem in India. Founder of Recommerce, Mr Venkat Patil has a vision to setup an entire ecosystem to manage the waste which is produced by industries. Services provided to the customers by Recommerce are superior in nature, services that help you innovate, grow, learn and engage while leaving a positive footprint on the environment. Exhibitions, awareness programmes and training workshops are events conduced to bring several industries together to discuss global issues. The Third Edition Conference is organized by Urdhva management Pvt Ltd in association with Kianna Media Ventures. Sustainable clothing and textile recycling conference third edition will be held in Coimbatore, the residency towers on 10th August from 8:00 AM to 5:00 PM. Chief Guest for the Recommerce event would be the Union Minister of Textiles, Commerce & industry, Consumer affairs, Food & public distribution Mr Piyush Goyal.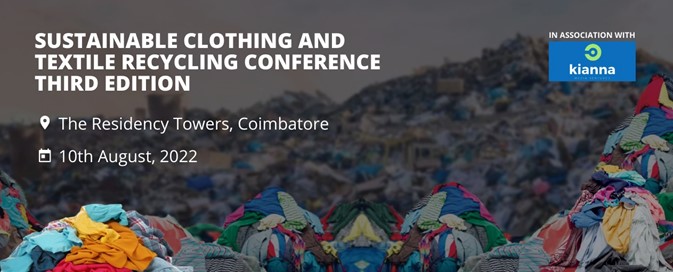 "It will be a pleasure hosting Hon'ble Union Minister Shri Piyush Goyal as Chief Guest for the Recommerce Conference in Coimbatore. The focus of the conference will be on developing a holistic approach in order to develop a sustainable textile industry via research, innovation along with development. Hope his inspiring and encouraging words and anecdotes would assist the attendees in envisioning a future roadmap for the country" said Mr Venkat Patil, founder of Recommerce.
"I am very pleased that Hon'ble Union Minister Mr. Piyush Goyal is the Chief Guest at Recommerce Conference, there has been a growing awareness among the consumers in regards with the implication of textile pollution on climate, increase in carbon footprint, global warming, hence demand for sustainable textile has increased. Shri Piyush Goyals valuable input toward sustainability in the textile industry could lead to a significant improvement in the industry" Savio Rodrigues, Founder and CEO f Kianna Media Ventrues
Readers, watch out for more details about the upcoming event.