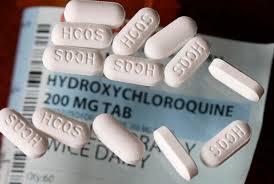 New Delhi: A recent study by Mandeep Mehra and Colleagues reported in The Lancet shows that hospitalised COVID-19 patients treated with hydroxychloroquine to fight COVID-19 had a higher risk of death compared with those who did not take the anti-malaria drug.
Mandeep Mehra and Colleagues study is the largest observational study published to date on the effects of chloroquine or hydroxychloroquine, with or without a macrolide, in 96,032 hospitalised patients.
The finding in the report add to preliminary reports suggesting that regimens of chloroquine or hydroxychloroquine, alone or with azithromycin, are not useful and could be harmful in hospitalised patients with COVID-19.
Verified data from an international registry comprising 671 hospitals in six continents were used to compare patients with COVID-19 who received chloroquine, hydroxychloroquine, chloroquine with a macrolide or hydroxychloroquine with a macrolide within 48 hrs of COVID-19 diagnosis, with 81,144 controls who did not receive these drugs. 
The primary outcome was in-hospital mortality and the occurrence of de-novo non-sustained or sustained ventricular tachycardia or ventricular fibrillation was also analysed. 
A Cox proportional hazard model accounting for many confounding variables, including age, sex, ethnicity, comorbidities, other medications, and COVID-19 severity, showed a significant increase in the risk of in-hospital mortality with the four treatment regimens compared with the control group. 
Analyses using propensity score matching by treatment group supported this result. The increased risk of in-hospital mortality was similar in men and women. The incidence of repetitive ventricular arrhythmias ranged from 4·3% to 8·1% in patients treated with a 4-aminoquinoline, compared with 0·3% in the control group (p<0·0001).
The study published analyzed medical records of Covid-19 patients. It was not a randomized controlled trial, which is considered the gold standard in science. It was funded by the William Harvey Distinguished Chair in Advanced Cardiovascular Medicine at Brigham and Women's Hospital.
Hydroxy