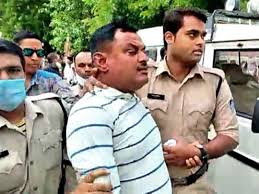 Kanpur: While so-called Human Rights activists raise doubts over the death of cop killer Vikas Dubey in a shoot-out on route to Kanpur when he tried to escape after the police vehicle overturned, families of the martyred policemen, who died in ambush on July 2 and brother of slain Minister Santosh Shukla, who was killed inside a police station, rejoiced at the news of the encounter of Vikas Dubey, saying 'Justice has been done'.
'I am happy to know that Vikas Dubey has been killed in an encounter. This was to happen. He has paid the price for the sins he had committed,' Manoj Shukla, brother of Santosh Shukla, a Minister in the then Rajnath Singh-led UP government, who was killed in full public view by Dubey.
As the news spread, people in Bikaru village distributed sweets. The family of Lallan Bajpai said that with Dubey's death, it was the end of terror in the village.
Har Prasad, father of constable Sultan Singh, who too was martyred on July 3, said the killing of Dubey was the real 'shradhanjali' to those, who were martyred in the line of duty. 'Police's responsibility does not end here. They should probe in a transparent manner and bring all the guilty to the book,' he added.