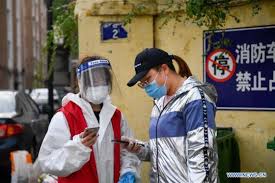 Beijing: Shulan – a city in Northeast China has been put under lockdown as a growing cluster of COVID-19 infections have emerged threatening to raise questions on China's claims to containment of the coronavirus pandemic.
Media in China have reported that all villages and residential compounds in the city of 700,000 in the Jilin Province near the Russian border, were sealed off yesterday. 
The Coronavirus Prevention and Control of Shulan City has instructed residents that one person per household is allowed out every two days to buy essential commodities. No one can enter or leave villages or compounds with suspected or confirmed cases, with all supplies to be delivered to by local stores.
At least 34 people have since been infected in Jilin province and three in neighbouring Liaoning.
Reportedly the northeast cases are all linked to a 45-year-old laundry worker for the Public Security Bureau in Shulan, who tested positive on May 7. It however is not known how the woman contracted the disease since there had been no local cases reported for 73 days before she fell ill, and she had not travelled out of the province or been in contact with anyone returning from overseas.