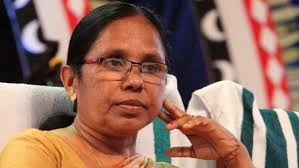 Kochi: Offering a lame excuse for her derogatory remarks on Goa and terming it as a Union Territory, Kerala Health Minister K K Shailaja stated that she confused Goa with a place called Mahe in the Union Territory of Puducherry.
Taking to twitter to offer her lame excuse, Kerala Health Minister, tweeted: "I was interviewed by BBC World yesterday regarding our fight against COVID-19.
While speaking, I intended to say that there were three deaths in Kerala and the fourth one was that of a person from Mahe who came to Kerala due to lack of health facility there. But, mistakenly I said Goa instead of Mahe, part of Puducherry UT.
I appreciate the works done in Goa regarding containment of the COVID-19 epidemic. I wish you all the very best."
However, the literate but uneducated Health Minister from the most literate state of India has not tendered an apology to the people of Goa for her derogatory statements.
I was interviewed by BBC World yesterday regarding our fight against COVID-19. https://t.co/xzHUqPHVv4

— Shailaja Teacher (@shailajateacher) May 19, 2020