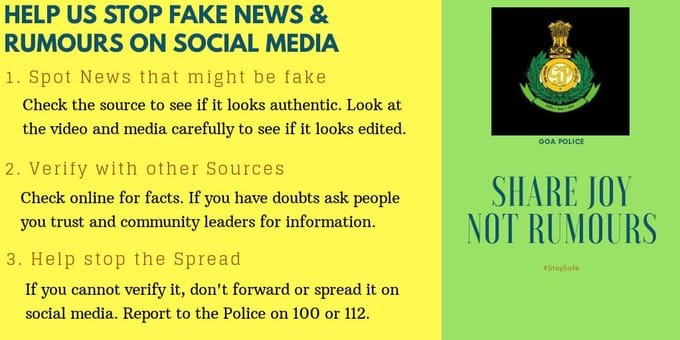 Panjim: In an effort to control the flow of fake news through different social media communication platforms in the state, Goa Police in its wisdom has decided to rope in the assistance of the people of Goa to stop the spread of fake news.
In its campaign, 'Share Joy, Not Rumours', Goa Police have advised the people to;
Spot the fake news:
Check the source to see if it looks authentic. Look at the video and media carefully to see if it looks edited.
Verify with other sources:
Check online for facts. If you have doubts ask people you trust and community leaders for information.
Help stop the spread:
If you cannot verify it, don't forward it or spread it on social media. Report to the Police on 100 and 112.
Fake news has been the bane of society in recent times, with people with vested interests and intent to create chaos across communities has been using social media to spread misinformation. Goa Police turning to people to curb fake news is a strategy that attempts to nip this menace in the bud.