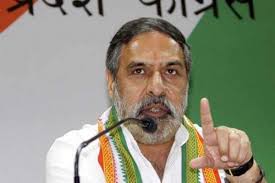 New Delhi: Following the expose of GoaChronicle 'Sonia Gandhi statement to Xinhua News Agency in 2011 confirms pact signed with China' that went viral on social media and on Republic TV, Congress leader Anand Sharma took to twitter to confirm that in 2008 Congress and Communist Party of China (CPC) signed party-to-party delegation exchange.
https://goachronicle.com/sonia-gandhi-statement-to-xinhua-news-agency-in-2011-confirms-pact-signed-with-china/
Incidentally, Congress leader Anand Sharma was present during the signing of the document between Congress General Secretary Rahul Gandhi and Wanj Jia Rui, International Department of CPC signed the deal on behalf of the Chinese government.
On the Twitter, Anand Sharma stated, "BJP, rattled by the disastrous handling of India's foreign policy, has launched a malicious disinformation campaign against the Congress on signing a party to party exchange programme with CPC of China, alleging it was against India's interest is mischievous disinformation."
He further added, "Party to party delegations exchange is normal between political parties. Congress has leadership delegations exchange with a large number of major political parties across the world. What is wrong?"
In the twitter thread, Sharma, goes on to admit that Rahul Gandhi as Congress General Secretary signed the youth delegations exchange with Wang Jiarui – Minister of the International Department of Central Committee of Chinese Communist Party. All Information is in public domain.
Congress continues to maintain a stoic silence over making public the document signed with CPC. GoaChronicle.com team has filed a petition in the Supreme Court asking for Congress to make the document public and for a NIA probe.
Sonia Gandhi has spoken about the Congress – China MoU to a Chinese news agency but has never spoke to Indian media about the contents of this understanding with China – an enemy nation of India.