Amidst the everyday news of the conflict between Israel and Hamas, what many people miss out on is the threat posed by Hezbollah, the Lebanese terrorist organization, which is looming large on the state of Israel in its ongoing fight with Islamic terrorism. While we know that the direct conspicuous nemesis of Israel is Hamas, operating from Gaza, it is crucial to understand that the real player, controlling the terrorist entity is Iran, which is also the mastermind controlling Hezbollah.
While Hamas poses threats to Israel in the south, in the north, it is enemies like Lebanon's Hezbollah and Syria, which Israel has to deal with. Hence, in order to closely understand how the scenario in the north of Israel is unfolding, Sonakshi Datta of GoaChronicle had a word with Sarit Zehavi, the Founder of Alma Israel Research and Education Centre, which specialises on the northern border of Israel, the region's society, communities, and the military nuances.
As per your assessment, is the IDF's move to evacuate civilians from the region near the Lebanese border, a defensive one or is Israel planning an offensive in the region?
I truly do not know what the IDF is planning, all I can say is that there is already an offensive of Hezbollah. In the past week, we had more than 5 attacks which came from Lebanon, including infiltration, drones, mortars, and anti-tanks. Hezbollah usually claims responsibility for the anti-tank attacks, including attacking communication infrastructure on the border, and IDF posts.
So, it looks like the one who is preparing for an offensive is, first and foremost, Hezbollah. As for the IDF, it is prepared completely on the northern border of Israel. I do not know what exactly are they planning, but it is clear to all of us up north that it is impossible to live in a situation wherein Hezbollah is launching anti-tank missiles into Israel.
Is it true that Hezbollah has tried to kidnap locals in the northern border region?
There were few attempts of infiltration since this campaign started, and Hezbollah claimed responsibility to only one of them. But in my point of view, it does not matter. All the terrorist attacks which were carried out from Lebanon in the past two weeks are done either by Hezbollah or Palestinian factions like Hamas and Islamic Jihad. And these types of attacks would not happen without a coordination between them, or at least, the Hezbollah would have knowledge about the same.
Whether the infiltration into the Israeli community was to kill or kidnap Israelis is something I do not know, but all I can say is that the offensive plan of Hezbollah does include kidnapping of civilians, in order to make them human shields.
Do you think Israel's northern border is sufficiently protected?
As an ex-military personnel, I can surely say that you are never prepared enough when there are things happening which are always more than you can handle. I think that the IDF soldiers on the border are well-prepared, we saw the preparations, and we saw that there are a lot of soldiers there, which makes us feel much safer. Yet, it is not an assurance that everything will be fine, and nobody will be able to cross the border.
If we talk about an invasion of thousands of Hezbollah terrorists, this would mean that some of them will be successful to enter Israel, this is why we are so worried. And it is a terrain which is easy for hiding with a lot of valleys and forests, hence it will also be really difficult to find them, and they have an upper-hand in such a situation. This is the scenario because of which the communities have been evacuated by the IDF, in the light of an apprehension of invasion by Hezbollah up north, like what happened from Gaza.
The bottom-line is, I think that we are not going to see a massacre at the scale we saw in Gaza, but on the other hand, I do not see a scenario in the north that IDF will succeed 100 percent in preventing any loss of lives by a Hezbollah invasion.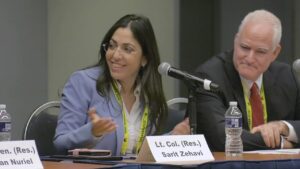 Sarit Zehavi, Founder, Alma Research Centre, Israel
What are the security challenges being faced on Israel's northern border?
The security challenges we face are divided into two broad categories, first is the invasion threat that I described, including commando companies of 3000-5000 terrorists, who are experienced because of the war in Syria.
The second challenge, which is no less important is their missiles, rockets, and drones. Their arsenal is about 2,00,000 different kinds, the biggest amount being that of mortars, which have a range of around 20 KMs, at 1,50,000. Not all of them are based within the range of the gates of the state of Israel, but until now in this conflict, mortars have already been launched.
Other than this, we should also talk about rockets which have varying ranges, and can cover almost all of the state of Israel, and drones which can get as far as 2000 KM beyond the state of Israel, and Hezbollah has around 2000 of these as well. This massive fire-power is extensive, and is 10 times more than Hamas. Evaluations point out that Hezbollah is capable of launching a few thousands of rockets every day.
Looking at the present scenario, will Hezbollah launch a full-blown attack against Israel, or will it stick to limited strikes?
I personally think that Hezbollah is trying to drag Israel into war, but at some point, somebody will start something, because as I have said, the residents of the region 2-5 KM next to the border, most of them are not there anymore, and it is a big question as to how they will be able to come back. So, at some point, someone will have to do something, to eliminate the capabilities of the other side.
And I hope that will be the state of Israel rather than Hezbollah, and I hope we are not going to be caught by surprise, everything will end in the south, and the US carriers will go back home.