Yuva - India
India: An extended family to the children without parents
Let us join hands to stand in support of the children left alone to fate.
As the nation is battling with the Chinese virus, the citizenry is not only dealing with the physical trauma but are also traumatized mentally and emotionally. Amid the rising coronavirus cases there comes many outbreaks of children been left alone as they have lost both of their parents to COVID-19 or are hanging in a situation where there is no one to look after them as a single surviving parent is dealing with the ailment tragically in the hospital.
With such a situation at present, the children are deprived of the emotional and mental care and warmth of the relatives which results in children taking harsh steps even like taking their own lives.
Many NGOs and institutions are coming forward to look after those children and providing them with all that they need at that stage of life. Protsahan, an NGO administering in about 50 slums in Uttam Nagar, Delhi. They said there have been many difficult cases in the recent past to deal with.
"There are many cases in which both parents have died. What is important today is an institutional response to such cases. People are calling for adoption but a proper legal mechanism must be followed for the sake of the future and welfare of these children" quoted Sonal Kapoor Singh, Founder, and Director of the NGO.
She further said, "It is not just this year or in this phase of a pandemic. Last year also, we saw children being affected in many ways. We have found cases of sexual abuse of children in slums because they were left vulnerable."
We're looking at a generation of children in distress and facing severe trauma who will grow up to be broken adults. Everyday, the stories from the ground are becoming more heartbreaking. Need based interventions wont just cut it, rights based thinking & policy needs to be key.

— Sonal Kapoor Singh (@ArtForCause) May 10, 2021
As social media has evolved in a way unimagined during the COVID times, it is even wielded as a big platform by the frauds to carry out their fraudulent practices. Several calls and messages have been detected in recent times that call out for the adoption of such children without engaging in any legal procedures. As this can be hazardous for the future of the children so left alone, many activists on social media have come forward to warn the citizens that such routes can destroy the welfare of children.
There are many complicated cases seen in the recent past of children been left alone after the death of both the parents or even one of them collapsing the family emotionally, mentally, financially, and psychologically.
In a case, Delhi police rescued two children who were allegedly planning to end their lives as they lost both their parents to COVID two weeks earlier. Most times relatives come forward to take charge but if this option seems non-viable, then the state govt steps in.
Karnataka noticed two such issues where the children without parents were not given any support by the relatives said, one activist.
In another such case, a newborn baby in Kolkata lost her parents and grandparents to COVID. The baby was even tested positive for the Chinese virus but fortunately fought with and survived. Later on, the baby's maternal grandparents took charge of her who lived in another city of West Bengal. West Bengal-based journalist Anuradha Sharma spoke about it saying "Stories of Covid orphans will haunt us big time."
As the fraud calls and messages get viral on social media for the adoption of children, the DCPCR (Delhi Commission for Protection of Child Rights) on May 6 urged people not to fall for the misinformation spreading on social media. The commission also advised the interested families to follow legal procedure for the adoption and under what circumstances a child can be adopted.
A post is being shared with a claim that two girls who have recently lost their parents can be adopted by calling a number.#PIBFactCheck

This claim is #Fake. A process has to be followed to adopt a child. It is illegal to adopt a child if proper guidelines are not followed. pic.twitter.com/TIPwrtHk22

— PIB Fact Check (@PIBFactCheck) May 4, 2021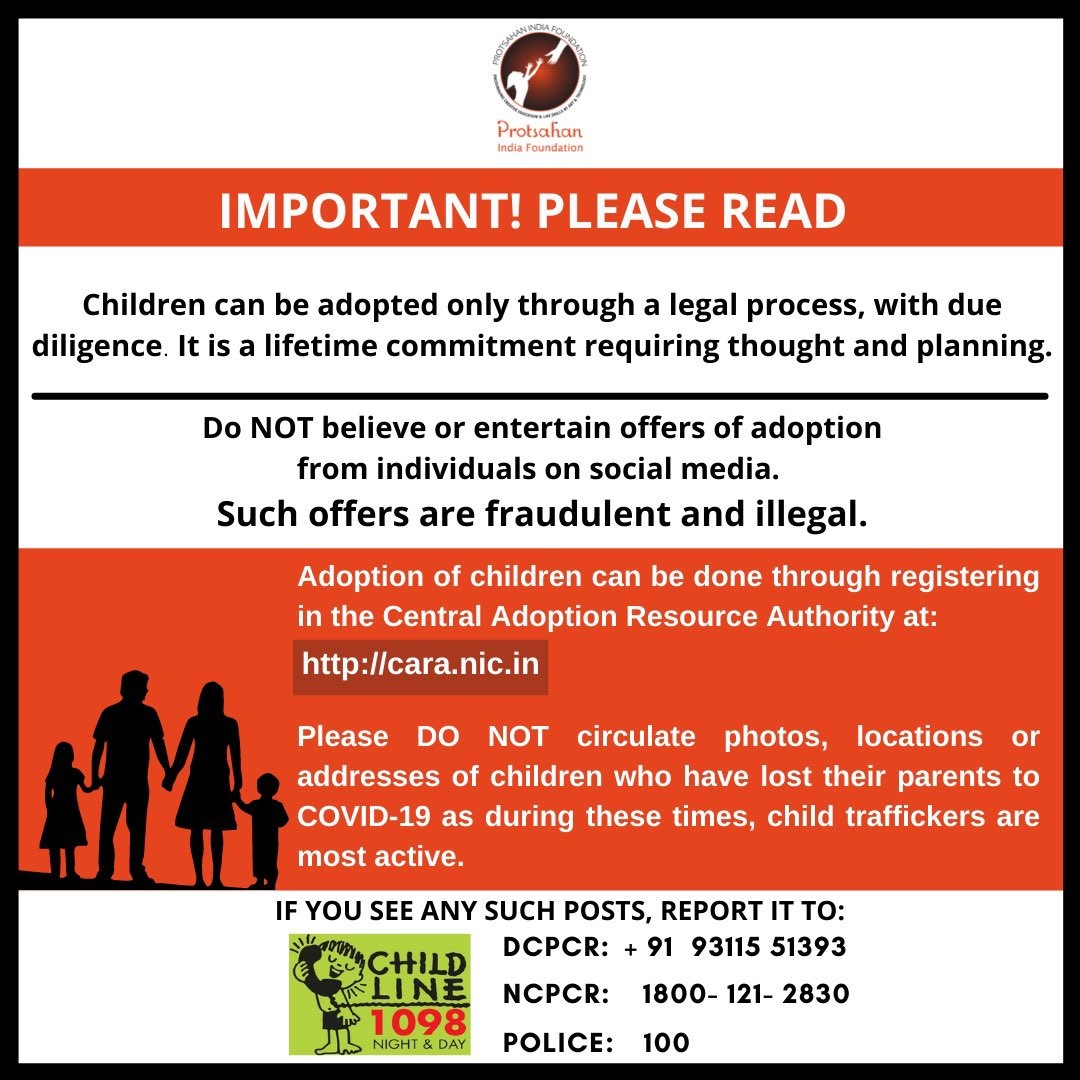 "Do not believe anyone who says he/she can give you the child for adoption. They are either lying or misleading or simply involved in illegal practices. Do reach out to your lawyer friends for advice" said Anurag Kundu, chairperson of the Child Right Protection Wing.
He further said, "Remember, no child can be adopted unless a child has been declared 'legally free' for adoption by the District Child Welfare Committees."
Lot of people have reached out about the process for adopting children. Several have reached out for clarifications. Hence, the thread about basic facts, legal position and the process.

1. Who Can Be Adopted?

— Anurag Kundu (@AnuragKunduAK) May 6, 2021
I have written to @DelhiPolice Commissioner requesting their intervention in how children are being offered for adoption (&adopted) based on social media in complete violation of the laws. Have also requested if Delhi Police also to help raise awareness about the legal provisions pic.twitter.com/epIFESsVof

— Anurag Kundu (@AnuragKunduAK) May 3, 2021
The commission has also launched a toll-free helpline number (1800-11-1311) and an email id ([email protected]) or can even register on the CARINGS portal of Central Adoption Resource Authority (Cara.nic.in) which can connect the citizenry to the DCPCR and can inform about such children who are dealing with the most troublesome times of their lives. The helpline does all the needy procedures to make sure the charge of a child is given to the relatives or the neighbours until some proper process is looked at to handle the child.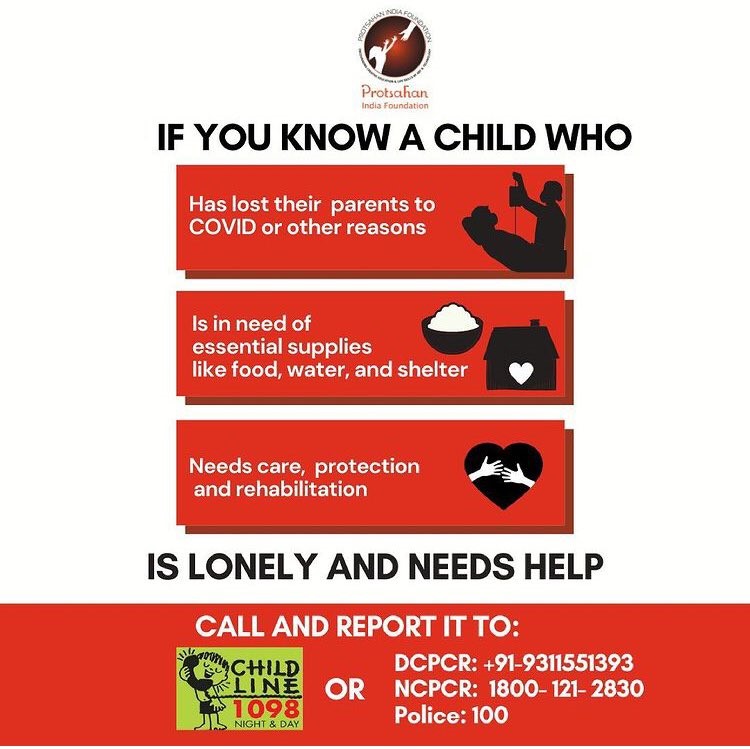 Union Minister Smriti Irani also took to her Twitter handle warning people about the fraudulent take-ups. She quoted, "if anyone contacts you regarding orphan children available for direct adoption do not get into the trap and stop them. It's illegal. Inform local Child Welfare Committee or police or childline 1098 about such children." she further said, "We all must ensure legal adoption otherwise children can be trafficked in the name of adoption. Save them."
*IMPORTANT Thread*

If you come to know of any child who has lost both parents to COVID and has no one to take care of her/him, inform Police or Child Welfare Committee of your district or contact Childline 1098. It is your legal responsibility.

— Smriti Z Irani (@smritiirani) May 4, 2021
If anyone contacts you regarding orphan children available for direct adoption, do not get into the trap & stop them. It's illegal. Inform local Child welfare Committee or Police or Childline 1098 about such children.

— Smriti Z Irani (@smritiirani) May 4, 2021
The NCPCR (National Commission for Protection of Child Rights) under an initiative named SAMVEDNA provided a toll-free helpline no. for providing counselling and psycho-social, mental support to the children affected during this pandemic. Toll-free No. (1800-121-2830).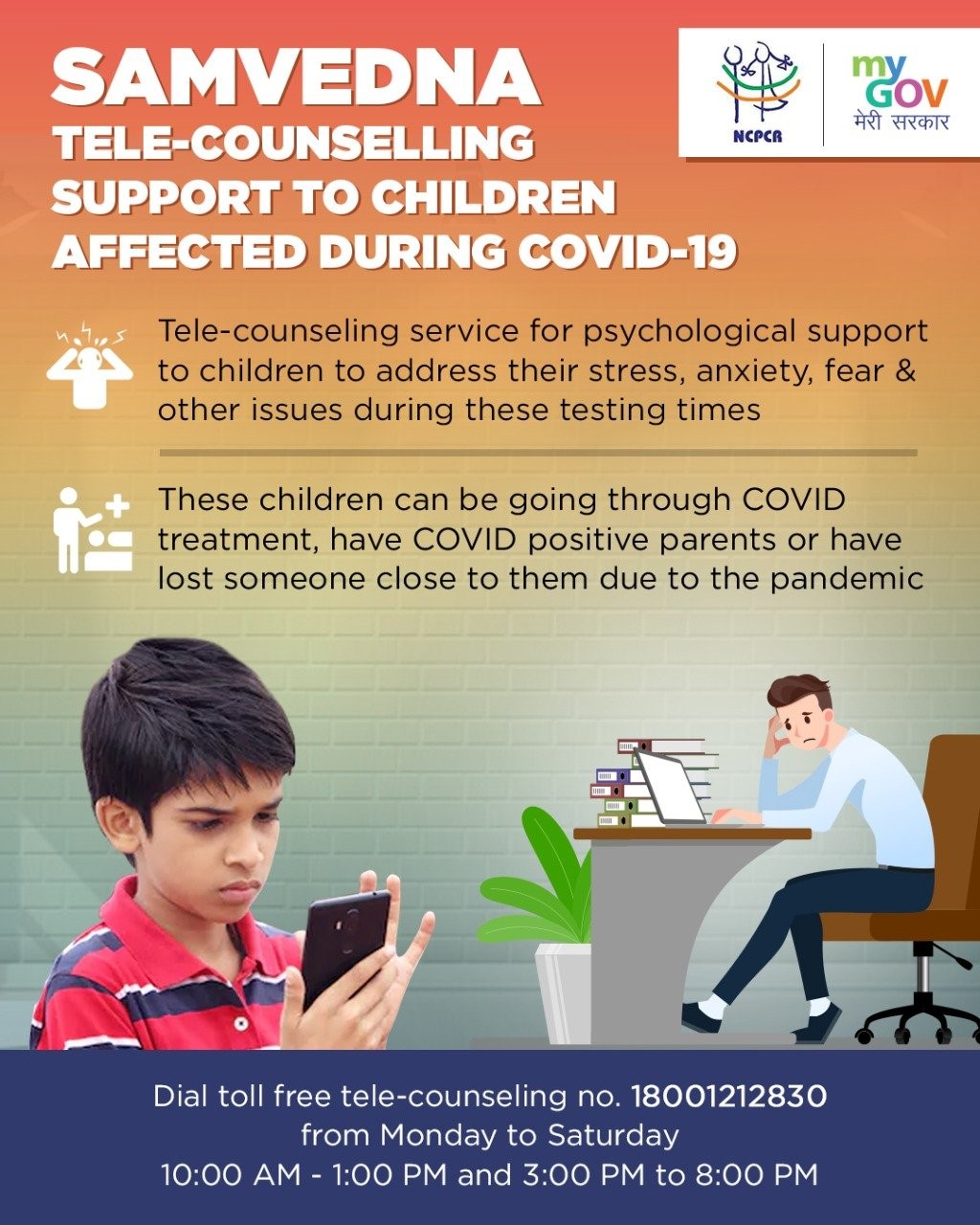 Some activists also say several other complicated situations are emerging because of the pandemic. The poor sections of the society, mostly the children are affected too much by the pandemic in various ways since last year. They even said of coming across the cases of misery across the lengths and breadth of the nation.
There are even many cases that show the callousness of the extended family to the children where one report by the NGO documents the relatives of a minor girl who wanted to get her married. The report read the relatives saying, "Her mother died due to Covid. Now we will get her married soon so that she can be with her husband and not our responsibility."
In another case, an adolescent girl quoted, "My mother is scared to leave father because she financially depends on him. She doesn't know he's doing something wrong."  Notably, the girl's parents lost their source of income due to the pandemic.
As the nation is fighting against the pandemic, it brings shivers down the spine to think of the children who lost both the parents or one of them. The mental, physical, psychological, and emotional trauma they face is unimaginable. It's now prime time to stand in solidarity and be an extended family to these children to provide them the warmth they deserve and hence securing their future.
DISCLAIMER: This article reflects author's view point. Goa Chronicle may or may not subscribe to views of the author