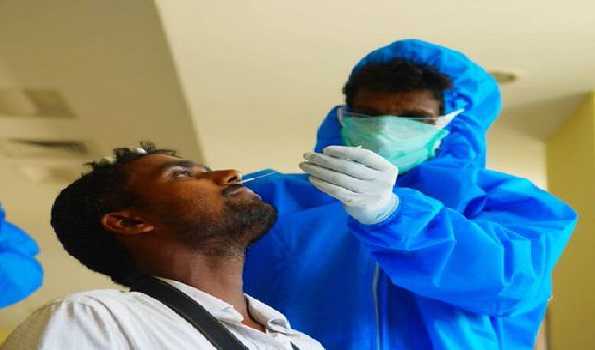 The coronavirus is only a virus come from a lab in China.
We all know the nature of products that come from China. Their quality is poor, their efficiency is negligible and their products rarely last. But there is no denying that it has a wide-market spread in the world because it is cheap.
The novel coronavirus or COVID-19 is a product of China. So principally we know we have with us a mass-product that will reach many countries. It will affect a lot of people globally, even cause some deaths but it will not be able to destroy the world.
Fear of the coronavirus is what will destroy the world. In fact the southward tipping global economy will create far more panic around the world that the coronavirus.
Of we course we need to be careful, alert and adhere to strict non-pharmaceutical measures – social distancing, hand and face washing, avoiding travel and avoiding group meetings.
The sudden surge in India and its expected rise over the next couple of weeks, is not a frightening indicate. I expected it. If you understand the movement of the virus, you will see that in some countries it is having a delayed surge of cases.
The truth is that the virus will spread. It will infect if we are not sanitised or properly covered. But we must not fear it. We must learn to deal with it positively.
We must as a nation focus on the recovery rather than the number of cases. We must endeavour to save many lives from falling into the deathly claws of COVID-19.
There are some sections of the world that want you to live in fear, thinking that without the vaccine there is no cure. Of course without a vaccine there is no permanent cure but if we look at the recoveries around the world without any vaccine there is hope, that we can survive this, with us being disciplined.
This is not the end of the world. This is just a rough bump on our journey in life. 
We must not let our fear overcome us.
We are constantly fed with information on coronavirus to instil fear into our minds. We must believe in ourselves to overcome this health crisis.
Indians have a very unique immunity system. It is a strong immunity system that can survive the onslaught of a Chinese virus. 
Fear not, if positive COVID-19 cases climb higher. This is just the spread of the virus.
Pre-existing health conditions in some patients could cause death and that is sad and very unfortunate. Yet we must fight and stay focused for those that are alive and could fall prey to the deathly snares of the virus.
This fight is a fight as India. This fight is not about BJP or Congress, Muslims or Hindus, Brahmins or Dalits, Rich or Poor. We have to fight this as Indians.
It is utterly shameful and downright disgusting that even at a time of coronavirus we have people playing political and religious games to show a political party or religious community poorly. Grow up imbeciles. If we do not handle this virus, you will not be alive to talk politics or religion ever again.
You have to fight COVID-19 not because our Prime Minister Narendra Modi is telling you too, you have to fight the coronavirus because your family, your society, your community and your country depends on you. Every citizen is a soldier in this war against COVID-19.
Trust our doctors, nurses, police and thousands of support staff fighting this virus for every Indian. They are our frontline warriors. You need to be a warrior like them. Every Indian is a Corona Warrior. Do your bit.
I do not trust Chinese products. I never have. I do not trust the coronavirus either. It will have a weakness that the world has not looked at more clearly and I am not a scientist to understand the virus-based weakness but it will. Its greatest strength will be its greatest weakness.
India, we can defeat COVID-19 and India will defeat COVID-19.