Due to the rising number of COVID-19 cases, it has been well advised by experts in India that social distancing, wearing masks, and taking proper precautions are of utmost priority. If there is nothing urgent, please stay indoors and stay safe.
On the day of Eid, Muslims across the world celebrated Eid to mark the end of Holy Ramadan; they believe it is the time to celebrate and spread joy and to distribute their wealth.
Amidst the deadly pandemic number of Muslims were seen crowding in Charminar Hyderabad for Eid shopping, where many could be seen without masks and could lead to a super spreader adding to the cases in COVID-19.
Watch the video here:
#WATCH | People throng markets near Hyderabad's Charminar area ahead of Eid tomorrow. A 10-day lockdown is in place in Telangana to contain the spread of COVID19 cases pic.twitter.com/LQudIqMpWm

— ANI (@ANI) May 13, 2021
Telangana has reported close to 60,000 active cases. The city is under a lockdown for 10 days; however, people could go out and buy essentials as the restrictions were laid off for 4 hours between 6 am to 10 am. Several parts of the old city had severe traffic jams as the cars were banned as part of restrictions.
Several leaders from different parties urged the Muslim community to stay home and celebrate Eid due to COVID-19. Despite the leader's request, crowds gathered to celebrate Eid.
Mohammed Mahmood Ali, Home Minister of Telangana, tweeted on 12th May wishing Eid greetings and urging people to stay indoors to celebrate Eid https://twitter.com/mahmoodalitrs/status/1392525647013027841?s=20
Asaduddin Owaisi, President of AIMIM, wished everybody a happy Eid showing solidarity towards everyone who is facing tough times and all of them who lost their loved ones, following which he also tweeted and requested his fellow beings to stay home and celebrate Eid this year.
Meri aap tamaam se guzarish hai ke #Eid ko saadgi se manaiye. Hum dua karte hai ki Allah (SWT) apne fazal se, apne karam se iss waba se humein chutkaara dilaayepic.twitter.com/HNidNSRqDV

— Asaduddin Owaisi (@asadowaisi) May 14, 2021
Prime Minister Narendra Modi wished everyone a Happy Eid, spoke about unity in tough times.
Best wishes on the auspicious occasion of Eid-ul-Fitr. Praying for everyone's good health and well-being. Powered by our collective efforts, may we overcome the global pandemic and work towards furthering human welfare.

Eid Mubarak!

— Narendra Modi (@narendramodi) May 14, 2021
JAMA MASJID-Amritsar, a Massive crowd, gathered in Jama Masjid on 14th May 2021 to offer prayers. At a time of crisis when India is battling with the second wave of COVID-19, no social distancing norms were followed during the Namaz.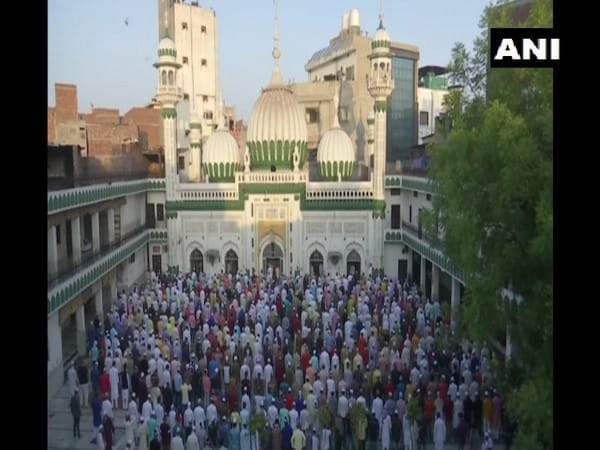 A particular section of media has been criticizing Kumbh Mela and particularly blaming PM Modi for the spread of COVID-19 and have said that it happened due to rallies of PM Modi and Amit Shah in West Bengal.
The rallies were called off after the increase in several cases; however, a clear partiality is being done here where a certain community is allowed to break all COVID norms, and the law enforcement does not even stop it or take action on the same.
A lockdown was only imposed in Telangana after an independent bench of Chief Justice Hima Kohli and Justice B. Vijaysen Reddy slammed the state and the police for trying to portray that the ground reality was all good and under control; however it was not under control also adding that the reality was completely different from what was being shown, said the judges.
Court also directed the Police Commissioners of Cyberabad, Rachankonda, and Hyderabad to ''put their heads together''.
Chief Minister of Punjab Capt Amrinder Singh addressed the people offering Namaz in Jama Masjid in Amritsar through a virtual conference, wishing them Eid and made an announcement where he said that Marelkotla, a Muslim dominated area, would be the 23rd district of the state from now by calling it the demand of the Muslim Community.
Happy to share that on the auspicious occasion of Eid-ul-Fitr, my Govt has announced Malerkotla as the newest district in the state. The 23rd district holds huge historical significance. Have ordered to immediately locate a suitable site for the district administrative complex. pic.twitter.com/9j6pNRgXWC

— Capt.Amarinder Singh (@capt_amarinder) May 14, 2021
In 2017 the government had promised the Muslim community and the Congress party that they would be declaring Marelkotla as the 23rd district of Punjab.
While much has been said about putting a lockdown and talking about norms, the farmer's protests have broken all of them. Some farmers say that COVID-19 is not even real and is only a conspiracy by the center; at the same time, some of them blame PM Modi for the spread of the virus and are alleging PM Modi for not letting them take the vaccine jabs. The opposition parties have also been supporting the farmers' protest and have been encouraging them instead of stopping the protests.
Recently a 26-year-old girl was gang-raped by 6 men, as mentioned in the FIR.
She was a social activist who was participating in the farmers' protest at the Tikri border and is said to have passed away due to COVID-19. Her father said, ''she had participated in various causes before as well, the culprits should be punished, but the innocent should not be punished."
DISCLAIMER: This article reflects author's view point. Goa Chronicle may or may not subscribe to views of the author