Breaking News
Expose
India
Pakistan-funded groups in US planning major 'Pro-Kashmir Anti-India' protests in India within next three months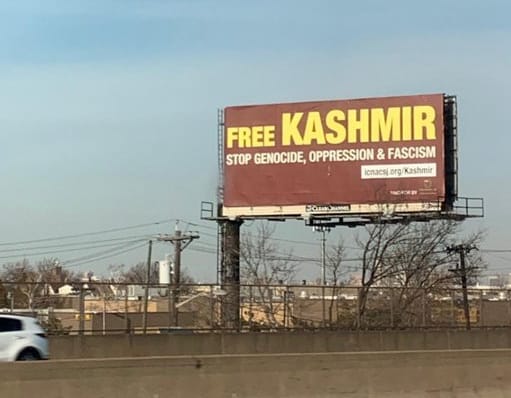 New Jersey: Continuing with our global investigations into Pakistan-funded groups functioning in the US, GoaChronicle.com has learned from our team in New Jersey that Pakistan-funded organisations in US are planning a major 'Pro-Kashmir Anti-India' movement across India within the next three months.
Our sources tell us that they are targeting the months of October and November. The aim is to create tensions across key cities in India, in particular New Delhi.
Pakistan-funded groups are rallying under the banner of Stand With Kashmir (SWK).  SWK is an affiliate of Islamic Circle of North America (ICNA), which has openly admitted to being associated Jamaat-E-Islamia (JeI) which is a banned organisation in India and its operational headquarters is in Pakistan and Bangladesh. 
ICNA sister organisation is Muslim American Society (MAS) – a designated terror organisation in the United Arab Emirates (UAE). ICNA is also linked to Al Khidmat Foundation which is the charitable arm of JeI and its raises funds for the operations of JeI.
In November 2019, three American lawmakers have asked the US State Department to investigate possible terror financing links between two prominent American Muslim organisations and terrorist groups like Lashkar-a-Taiba and Hizbul Mujhadeen.
The three Congressmen – Jim Banks, Chuck Fleischmann and Randy Weber — in a letter to the State Department Coordinator for Counter Terrorism Nathan Sales, said, "Specifically of concern are the innocuous sounding organisation, Helping Hands for Relief and Development (HHRD) and their sister organisation, the Islamic Circle of North America (ICNA)."
Here is what SWK states on its own website about its motto: 'Occupation is a crime. Miliarization is injustice. Self-Determination is a right.' SWK claims that it is a Kashmiri diaspora-driven independent global citizen grassroots group committed to standing in solidarity with the people of Kashmir in ending the occupation and supporting their right to self-determination.Their decentralized network of volunteers and allies spans major global cities to raise awareness of the injustices in Kashmir and encourage meaningful activism. The SWK further claims on its website, "Indian occupation forces continue to exert large scale, documented, and unpunished human rights abuses in Kashmir. 
The new terror outfit in Kashmir issuing threats to Indians – The Resistance Front – is funded by Turkey and guided by Pakistan-funded organisations in US.
TRF put posters across Kashmir warning the people of India that 'No Hindus must settle in Kashmir."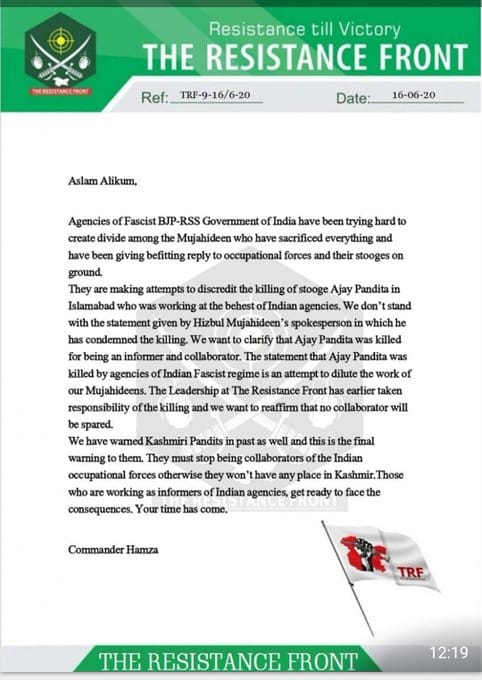 In the poster put across Kashmir, TRF states that Ajay Pandita was killed because he was an informer and collaborator with the Indian government.
"We have warned Kashmiri Pandits in the past. This a final warning to them. They must stop being collaborators with the Indian occupational forces otherwise they won't have a place in Kashmir. Those who are working as informers of Indian agencies get ready to face the consequences. Your time has come," the poster further warned.
The poster had been issued in the Commander Hamza of the Resistance Front. TRF is a proxy for Laskkar-e-Taiba.
The current hurdle to the plans for chaos across India by the Pakistan-funded groups is the coronavirus pandemic. But, India must be on high alert as their plans have not gone cold.