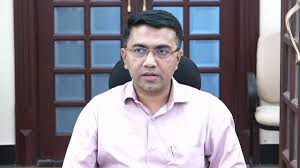 Panjim: In an effort to nip the spread of the coronavirus in the bud, the Goa government will undertake a statewide survey to trace any potentially suspect coronavirus case.
Chief Minister of Goa, Dr Pramod Sawant told media today that the survey will start from April 11, so that when the 21-day nationwide lockdown ends on April 14, the coastal state was able to consider the next step to tackle the spread of coronavirus. It will cover every household in Goa.
"The survey over three days and will be conducted by nearly 7,000 government servants as well as contract workers employed by the state," Sawant told reporters in Panaji. This is a 100 per cent community survey. Everyone in Goa should cooperate,"  Dr Sawant said.