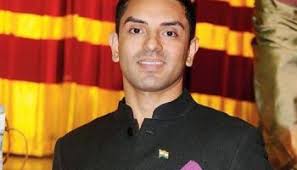 New Delhi: Political analyst and a TV panelist often seeing toeing Congress ideology Tehseen Poonawala has filed a complaint in the National Human Rights Commission calling for an intervention in what he terms as a 'fake' encounter of cop killer Vikas Dubey by Uttar Pradesh (UP) police.
Taking to social media platform Twitter, Poonawala, said, "I have filed a complaint with the National Human Rights Commission on the alleged fake encounter of Vikas Dubey this morning as part of a "script" to protect UP politicians, the Yogi Adityanath government and other Uttar Pradesh police officers.'
In his complaint to the NHRC, Poonawalla said, 'the questions raised by the encounter of Vikas Dube raise serious doubts that the due process of law was not followed after the gangster surrendered. The NHRC must take cognizance of the encounter by the UP police officers. '
"There are already several complaints about the illegal and unconstitutional behaviour of the Uttar Pradesh Police before the court of law and Human Rights Commission. Giving a free hand to kill surrendered accused must have brutal consequences," the complaint said.
Dubey is the main accused in the Kanpur encounter case, in which he and his men opened fire on the police team which came to arrest him on July 2 late night. Eight policemen were killed in the encounter.