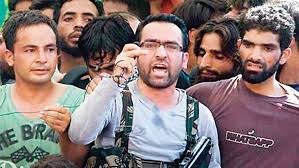 Srinagar: Early morning today the Indian security forces, trapped a most wanted terrorist after an overnight operation in his native Beighpora village in Awantipora in Jammu and Kashmir Pulwama district.
The dreaded terrorist has been identified as Riyaz Naikoo – a top Hizbul Mujahideen commander.
Riyaz Naikoo carries a reward of  Rs 12 lakh on his head. If Naikoo is arrested or eliminated in the ensuing encounter, it will be a big blow to the local terror groups active in the area, especially Hizbul Mujahideen.
Sharing more information, the Jammu and Kashmir Police earlier took to Twitter and said, "Contact established in the third operation at Beighpora in Awantipur. Top terrorist commander is trapped.' Exchange of fire is on and more details will follow."
Update. In the ongoing encounter at Sarshali, #Khrew,#Awantipur
One terrorist killed so far.
Details shall follow. https://t.co/jcoE9l6Bon

— J&K Police (@JmuKmrPolice) May 6, 2020