A new report by the International Federation of Journalists (IFJ), has found China's global image has benefited from the COVID-19 pandemic, despite accusations of the origin of the coronavirus being Wuhan Virology Lab in China.
The report indicates that over half of the 50 nations surveyed at the end of 2020 reported coverage of China had become more positive in their national media since the onset of the pandemic, while less than a quarter reported it had become increasingly negative.
The survey indicated that the change was most favorable in Europe, which scored 6.3 on a scale of one to ten, where one is the most negative and ten is the most positive. China's image plummeted in North America, coming in at 3.5.
The overall increase in positivity coincided with an uptick in Chinese outreach. Three-quarters of the journalists we surveyed said China had a visible presence in their national media.
Here is a look at the first IFJ report:
IFJ_ChinaReport_2020

China has long attempted to seed positive narratives of itself in foreign media while blocking unfavorable coverage and redirecting the world's attention onto Western failures.
To do so, Beijing taps into foreign media ecosystems with tailored offers of access and resources. It exports its propaganda to foreign media organizations through content-share agreements and memoranda of understanding with state-sponsored media outlets like Xinhua and China Daily
The findings reveal an activation of the existing media infrastructure China has put in place globally, which includes training programs and sponsored trips for global journalists, content sharing agreements feeding state-sponsored messages into the global news ecosystems, memoranda of understanding with global journalism unions, and increasing ownership of publishing platforms. As the pandemic started to spread, Beijing used its media infrastructure globally to seed positive narratives about China in national media, as well as mobilising more novel tactics such as disinformation. Beijing appears to be stepping up its news offerings, providing domestic and international content tailored for each country in non-Anglophone languages. At the same time, Beijing has weaponized foreign journalist visas, forcing resident journalists out of China. The vacuum in coverage is increasingly being filled by state-approved content, which is sometimes offered for free, to these countries.
Countries also tended to underestimate Beijing's impact on their media systems during Covid-19. On a national level, journalists criticized Beijing's propaganda as clumsy and irrelevant and were confident that their own media literacy or political systems would protect the media ecosystem from Chinese encroachment. But when viewed globally, the results looked very different. China is coming out of the Covid-19 pandemic with more positive global coverage of its actions and policies than pre-pandemic.
A total of 54 journalist unions from 50 different countries and territories participated in the survey between December 202 and January 2021 to gauge the extent of China's global media outreach during Covid-19. All participating bodies were affiliates of the IFJ and were offered the option of anonymity in order that they might speak more freely. The data was collected across six regions including Asia-Pacific, Africa, Europe, Latin America, North American, and MENA which comprises the Middle East and North Africa. In three countries – Serbia, Italy, and Tunisia – journalists also participated in roundtable discussions to build a more detailed picture of the contours of Chinese outreach in their region.
In 2020, the Covid-19 pandemic provided Beijing with the opportunity to activate this infrastructure to feed more positive narratives regarding China to global media. In the past year, Beijing has also expelled at least 18 foreign journalists and has frozen approvals for new journalist visas, in effect weaponizing visas. The reduction in the foreign correspondent corps inside China has led to a vacuum in China coverage, as some countries are left without resident journalists inside China. In some cases, they have then fallen back upon state-run Chinese sources to report China, leading to more positive coverage overall.
Since 2009, China has been building sophisticated media outreach infrastructure, including the free provision of state media content, advertising supplements, and bilateral cooperation agreements with local media outlets, as outlined in the first IFJ report. This research found that content offered to global journalists is becoming more tailored and more country-specific, with efforts being made to translate Chinese propaganda into different languages.
"China has used Covid to benefit its global image through the activation of existing media dissemination channels overseas and the use of new tactics such as disinformation and misinformation. China's largescale medical diplomacy campaign has also provided propaganda wins in many developing countries, burnishing Beijing's image as a reliable partner. Anecdotal reports indicate that Beijing has stepped up its content offerings, in particular by tailoring content including disinformation for specific countries and translating state-run messages into local languages.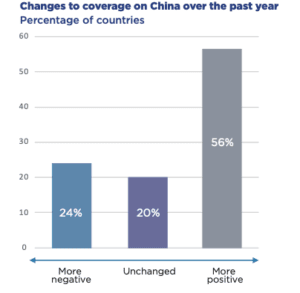 In some countries, China was also seen as the purveyor of the most accurate information about the new coronavirus, showing its growing influence over global narratives.
For Beijing, Covid diplomacy clearly offers another means through which it can exert its influence. This research shows that countries that are recipients of China's Covid vaccine clearly have more positive coverage of China, but it cannot draw conclusions as to the factors behind that.
This strategy has largely been acceptable to global journalists, who — judging by the results of our focus groups in three separate countries — do not perceive China's advances as a threat at a national level. Such views are in part due to the incremental nature of the changes, the clumsiness of China's propaganda effort, and the irrelevance of much of the material provided to local audiences. However, the survey does reveal that when viewed globally, there does appear to be more concern about China's influence, in particular in the Asia Pacific region. The survey indicates that the overall impact of Beijing's outreach is a redrawing of the global media landscape — one story at a time, one country at a time-shifting the China coverage in a more positive direction.
China is using a multi-pronged approach to redraw the information landscape to benefit its own global image.
In 2020, Beijing effectively shut down journalistic access to China, through visa denials and freezes, partly driven by international border closures. This had the effect of creating a vacuum in China coverage, creating a demand for stories from China, which could then be filled with state-sponsored content already available through content-sharing agreements. This has the effect of increasing the global media's dependence on China for content, whether that be news stories or softer cultural content. In this way, the information landscape is slowly being massaged in a direction more positive towards Beijing.
Beijing has taken a more assertive and interventionist approach to shaping the Covid-19 narrative, conducting coordinated disinformation and misinformation campaigns across social media platforms at the very highest level. Its ambassadors around the world have become more vocal in voicing criticism of local media coverage, and even about local politics, thus entrenching China's influence on the media far beyond its borders. China has both used the Covid-19 outbreak to burnish its own global image and further entrench its influence in the global media ecosystem."
ChinaMediaSpin

China's tactics in this narrative war are incremental but steady, with journalists in each country believing their media systems strong enough to withstand developments. Yet the evidence from the global survey shows the narrative landscape is being redrawn globally, story by story. Much like China's island-building efforts in the South China Sea, where Beijing's land reclamation efforts were only noticed once they had become military installations, these two surveys show together that Beijing is steadily reshaping the global media landscape nation by nation.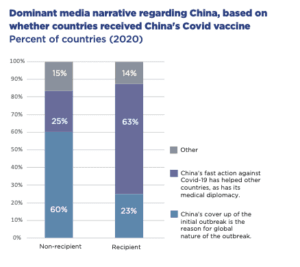 In 2020, China's global disinformation campaign came to the fore. Tweets from its Foreign Ministry spokesman Zhao Lijian showcased conspiracy websites, including one that claimed Covid-19 was brought to China by US soldiers attending the Army Games in Wuhan, the city in which the first outbreak was discovered. That narrative was then amplified across social media by an army of Chinese ambassadors and other foreign ministry spokesmen, who became known as practicing 'Wolf Warrior' diplomacy. Twitter and Facebook are still banned in China.
Beijing has also updated its information control toolkit unleashing both Wolf Warrior diplomats and paid trolls. This much is clear from the action taken by Western social media companies who repeatedly found networks of state-linked Chinese accounts seeding geopolitical narratives favorable to China's Communist Party.
In June 2020, Twitter removed 23,750 Chinese accounts at the core of a highly organized network which fed into another 150,000 accounts that amplified this content. The tweets were predominantly in Chinese languages and spreading geopolitical narratives favorable to the CCP while spreading disinformation about Hong Kong. This followed a similar move in 2019. In August 2020, Google removed 2,500 fake YouTube accounts linked to China, while in September 2020, Facebook took down around 180 such accounts.
These disclosures by tech companies suggest a large-scale coordinated attempt to use social media to seed narratives beneficial to the CCP overseas since these platforms are all banned inside China. In Italy, one of the earliest victims of the coronavirus pandemic, China was seen as actively propagating disinformation regarding Covid-19. State actors disseminated doctored videos, spread false information suggesting Covid-19 originated from Italy and seeded the incorrect narrative that handwashing did not succeed in preventing the spread of Covid-19.
China like a dragon slowly increases its stranglehold around the global media to influence nations to President Xi Jinping agenda.