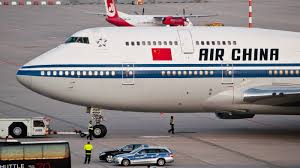 Washington DC: The United States government will permit Chinese passenger airlines to operate two-flight per week after China said it would ease coronavirus-related restriction to allow in more foreign passenger airlines into the country.
The new development were announced by the US Transportation Department yesterday.
On Wednesday, U.S. President Donald Trump's administration said it planned to bar all Chinese passenger airlines from flying to the United States by June 16.
The revised Transportation Department order cuts in half the four weekly round-trip flights Chinese passenger carriers have been flying to the United States and takes effect immediately.
China's announcement should allow U.S. carriers to resume once-a-week flights into a city of their choice starting on Monday.
The U.S. limit affects roundtrip flights between China and the U.S. by Air China, China Eastern Airlines Corp, China Southern Airlines Co and Xiamen Airlines Co.