The very cornerstone of a strong civilization is set with education, and in the modern times, the traditional ways of receiving and imparting education can prove to be mundane, and hence, can lack the required efficiency, and in turn, the outcome of the same can get aggravated. Another important facet of the development of the humankind, is technology, which has, and is still, revolutionizing the very way we think, communicate, and function as a society.
So, what if both the aspects, education and technology, get combined, in order to transition the field of education?
At Bodhami, education and technology go hand in hand. Made with two Sanskrit words, 'bodh' and 'ami', Bodhami literally means 'acquiring knowledge'. Bodhami is an online education platform which provides personalized experiences for an individual, using AI powered brain mapping, and advanced personalized learning techniques.  Bodhami's objectives are to provide holistic learning for individuals; take education to the last mile at an affordable price; and to offer top quality personalized education, anytime and anywhere.
In order to know how things at this edtech platform work, Sonakshi Datta of GoaChronicle had a detailed conversation with Bodhami CEO and Co-founder, Damodar Rai Patnekar.
How did Bodhami become a reality?
Ashutosh Shankar (COO and Co-founder), Aarthy Vassan (CTO and Technical Co-founder), and I used to work together in an IT MNC where we often came across individuals who were grossly unhappy with the work. We realized that in almost all of these cases, these individuals had other varied skills and interest, and would have been much happier in alternate careers.
When we dived a little deeper into numbers, it was quite alarming to know that more than 70 percent of the professionals were unhappy with their jobs. Imagine if they would have got a right career guidance early in their lives, we would have had a very happy workforce.
We realized that most students made poor stream and career selection decisions due to uncertainty and lack of awareness. Students were aware of only 6-7 careers on an average, when in the modern times, more than 2000 lucrative careers were on offer. Over 45 percent of the students were ending up making a wrong career choice with 95 percent of schools and colleges not having any formal access to career counselling and mentoring.
This problem was even more concerning in rural and semi-rural areas, as compared to metros. We set out a vision for ourselves to guide over 10 million students in our journey and with that vision in mind, left our corporate jobs to start on this noble path.
As Albert Einstein wrote, 'Everybody is a genius. But if you judge a fish by its ability to climb a tree, it will live its whole life believing that it is stupid.' The question that we had at this point of the journey was, 'What is the genius in you and how do we help the students and professionals to find and arrive at that?'.
When we looked at student journeys, we realized that career Counselling is only 5-10 percent of the initial support needed for the student. The student also needs support or mentoring on skill upliftment and learning, preparation for entrance examinations, readiness for corporate jobs, placement support in jobs etc. This constitutes to the rest of the 90-95 percent of the journey for the student.
Bodhami looked at this end-to-end journey right from career counselling, skill upliftment and learning, corporate readiness for students, scholarships and finally placement. It took us over one and a half years to put our experience into a technology solution to solve this problem.
Our entire team focused on developing a state-of-the-art AI driven career counselling platform and personalized learning platform where the career recommendations were based on the data of actual career professionals from the industry.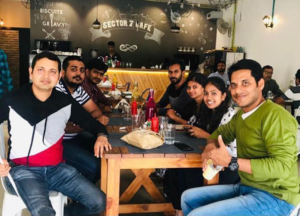 Team 'Bodhami'
What are the various education and career-related services that Bodhami provides?
Bodhami is a Goa based National Startup Award winner from the Government of India among 1 Lakh+ startups in the country. The National Award won has been in the space of rural development and access to rural education from DPIIT (Government of India) which is a very special category.
Bodhami is one of the fastest growing career counselling, skill assessment and personalized learning platform in India, having trained and networked with more than 2500 career counsellors across 250+ cities. Bodhami has counselled over 45,000 students and graduates across its network and more than 50 percent of this has been in the rural sector. Bodhami has enabled hundreds of nano entrepreneurs through their platform with more than 60 percent of them being women, and their story has also been covered by Delhi Doorsharshan under startup champions programs.
We believe that every student is unique and has potential. Our mission is to help the student realize their true potential by providing the student with right career path and holistic skill interventions to reach the target career. We had a very strong belief in our vision that we want to bring about change in the society.
What are some of the signature programs and work that you are doing or have done in this space?
Some of the key highlights are career counselling, Bodhami works with more than 2500 career counselors, and partners across India to drive career counseling programs to help support clarity of careers. More than 45,000 students, graduates and professionals have taken assessments on Bodhami Platform. This includes government programs across the state of Goa for 20,000 students in Goa and outreach across some of the remote and rural parts of India to drive career counseling.
We work with extensively with NGOs and career counselor networks in rural and semi-rural areas where adoption of such concept is extremely important to drive change at a grassroot level. Students in remote villages like Dibrugarh in Assam, Jalpaiguri in West Bengal, Bastar in Chhattisgarh, Valsad in Gujarat, and Basti and Faizabad in U.P, remote parts of Kashmir etc., are being counseled on their careers through the Bodhami platform, which has been a first for lot of them. The platform has also been enabled to answer the career tests in regional languages on any device.
Next is scholarships. More than 3000 underprivileged students would be getting scholarships through our partnership with SBA in Himachal Pradesh. The scholarships are administered on Bodhami's Scholarship Platform. Bodhami supports this initiative and numerous other across the rural sector enablement through career aptitude testing, career counseling, corporate readiness, mentoring, scholarship and online learning platform driven by AI.
Another aspect is corporate readiness wherein Bodhami has launched Innovation Quotient test across the state of Goa for students to know their innovation report. Bodhami's corporate readiness platform is used by institutions across India to make students corporate ready, to find out their job readiness quotient, MBA branch selection, entrepreneurship readiness, technical knowhow etc.
This is followed by entrepreneurship. Bodhami Co-founder is also part of the Board of Studies panel on Goa University which is introducing entrepreneurship related subjects for students. Bodhami conducts entrepreneurship workshops and sessions across students in colleges and schools.
Finally, there is skill development & learning and also recruitment and placement. Bodhami has conducted skill development programs for grassroot level skill development. Bodhami's upskilling and learning platform is used by educators to drive digital driven skill upliftment programs. And Bodhami's recruitment platform and portal has empowered educators to be job providers and help graduates get the right job opportunities aligning to their skill.
How does Bodhami ensure 'personalized learning' for students?
We look at the personalized skill map of a student once the student answers the test, and suggest the student a very personalized learning plan with the help of free learning courses to address the skill gaps the student has. The career and skill assessment reports use AI to give a personalized tailored recommendation of career paths to the students.
Career counselling is only 5-10 percent of the initial support which is required for the student. Students would need support or coaching on skill upliftment, readiness for entrance examinations, readiness for corporate jobs, placement support in jobs etc., and learning and scaling during the job. This constitutes to the rest 90-95 percent of the journey for the student across phases of education and work.
Bodhami looks at this end-to-end journey right from career counselling, skill upliftment and learning, corporate readiness for students and graduates, scholarships and finally placement/ recruitment.
With one Bodhami account, over 50 services can be enabled. For this, Bodhami has enabled a 5 platform-access to each educator, to support the student. These platforms include career counselling, learning management, scholarships, recruitment and corporate readiness.
How does Bodhami's 'career test' work?
Bodhami's psychometric assessment is based on the concept of Holistic 360 degrees skill assessment and learning. Our psychometric assessments have been created after extensive research and statistical validations by a team of experts who are PHDs, psychologists, neuroscience experts, IITians with AI expertise, and HR experts.
We measure students' unique aptitude, interest and personality which is used to uniquely suggest the desired careers for the student and also recommend the learning interventions needed for skill upliftment. There are 14 unique skills, 10 interest parameters, and 10 core personality dimensions which are assessed as part of our career tests, with a total of 34 dimensions.
What is unique about the platform is that the recommendation is done based on the data of 10000+ actual career professionals from 19 different career streams. Every time a student or a professional seeking guidance on most suited career, takes the career test, the AI algorithm compares the 34 dimensions for the student with that of actual career professionals and comes up with the career recommendation based the association algorithm.
The career test is a psychometric test which is based on Artificial Intelligence Technology. The psychometric assessment or career test is of 75 Minutes. There are 70 questions which are required to be answered during this time. Usually, it takes around 30 minutes on an average for the students to finish the test. There is absolutely no preparation of any kind needed for answering the test as it is not an examination which one needs to pass.
Also, there are no right or wrong answers as the test reflects one's aptitude or skill, interest and personality which can differ from student to student. The questions which are asked are around numerical reasoning, verbal reasoning, analytical reasoning, motivation and leadership, behavioural aspects related to social or emotional intelligence, and general questions which are related to visual perception, creativity etc. These questions help us evaluate the general aptitude of the student and the personality. We also capture the priority or interest the student has across subjects.
There are three key dimensions which are assessed as part of the psychometric assessment conducted. This includes personality of the student, interest of the student, and the skill or aptitude of the student across multiple dimensions. We measure the 360-degree profile of the student. There are 10 dimensions of personality, 10 interest dimensions, 14 skill dimensions and 3 Key quotients which are measured by the career test.
Salient features of the career reports are top strengths and improvement areas, top streams matching for the student, top careers matching for the student, key quotients – IQ, EQ and PQ, key skill scores, key personality dimensions, top learning recommendations, career exclusions, after 10th and After 12th options, and top colleges.
What is 'skill gap'?
For a student, the skill gap is the gap which the student has to improve, the skills which the student is not so good at, compared to the median of the population for which training interventions in form of personalized courses are suggested to the student.
For a graduate or professional, this not just includes the skills required as part of their aptitude but also the various competencies required for a given job to make the graduates and professional job ready for a certain job they aspire to are applying for.
What is the 'Bodhami India Franchise Programme'?
Bodhami has multiple segments when it comes to pricing on the platform. These are the 'Direct Model'- the career report costs for b2c students coming directly on Bodhami's platform is Rs 1,495. Franchise Model–the exclusive franchise partners who are using Bodhami's platform on SaaS model, we allow them to charge their own prices but put a cap on the prices they can charge. Every report is priced at Rs 249 per student for the Franchise Partner.
Counsellor Model–the career reports cost is as low as Rs199-449 to our counselling partners who have been trained on our platform. Ansd lastly, the Rural and Government Model, specially for counsellors providing services in rural and last mile areas, we make sure that report price is not a concern for providing services and Bodhami does part of the investment on the prices from their end as such programs are directly aligned to Bodhami's larger vision.
For the 'Franchise Model', Bodhami selects partners across India and offers them a franchise model where top selected partners get franchise option with a preferential partner treatment. The preferential terms are in terms of the pricing on the platform and all other products at Bodhami, area of the franchise which is demarcated where no other franchises are awarded, White labelling and courses prices are discounted for franchises. These franchise partners are selected where the vision of Bodhami In terms of social impact and enabling grassroot level upliftment is shared and supported by the partners.
There are two kinds of franchise packages you can look at. Option A and Option B. Option A is usage of Bodhami Brand Name, Logo and Platform, access to Bodhami products on pay per use model, and Option B is usage of your own brand name with Bodhami Technology where you market services in your brand name on platforms, reports and URLs. We give dual counselor certification programs, preferential rate for bulk career report licenses.
We let you decided your own counseling fees, counseling packages etc. and only collect the cost of the career report license from you on the career counseling platform going forward after these 100 career report licenses are expired.
What role does AI have to play in Bodhami's services?
We use high end Artificial Intelligence Models to drive all our products like career analysis and recommendations. We use AI to map every student's 360 profile (skill, interest, personality), to actual professionals on the job and find out the right career fitment, skill gaps to get in the career and personalized learning plan. More than 10000 actual personas are studied in multiple professions to arrive at statistical models for right recommendation of careers. We also use AI to find the right career fitment and career path for the students, graduates and professional.
Usage of AI to find out the right candidates who fit the job profiling through functional tests and competency tests of candidates is also done. This AI drives our other platforms to find right candidates for recruiter and to award scholarships to right candidates etc. Usage of AI to suggest the right learning modules, courses to suggest the learning interventions for an evaluated student of professional, and to suggest the right students who should be given scholarships is also done.
We enable 'Digital Journeys' across customers automated so that scaling is easy and customer experience is highly elated.
Could you give us a detailed insight into the work you did with the Government of Goa?
Bodhami partnered with the Government of Goa, Education Department to enable a state-wise roll out of the career aptitude testing and career counselling program across the state of Goa. Bodhami trained 700+ teachers across Goa on career counselling frameworks, methodology and usage of the AI powered platform for administering career tests, generating career reports and conducting career counselling sessions.
More than 18,000 students of class 10th and 12th across 250+ schools and 12 talukas in the state answered aptitude test and were imparted career guidance along with personalized career reports. This was the first time such an initiative at this scale was driven under the vision of Chief Minister, honourable Dr Pramod Sawant.
Post the completion of the program, Bodhami also presented detailed analytics on district, taluka & school level to the government to identify specific skill gaps & ideate ways to design learning programs across these skill gaps.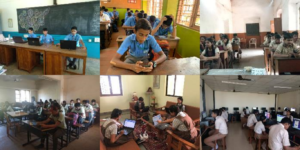 What are some of the awards and accolades you have achieved so far?
Bodhami's impact on the ground has been recognized at multiple forums and it has received multiple awards and recognitions. Bodhami is the National Startup Awards 2020-21 winner by Government of India, Ministry of Commerce & Industry, and is a Startup grants winner under Goa IT Startup policy.
Bodhami is one of the top 7 start-ups and only one in the EdTech space, selected to represent innovation by Indian start-ups in India-Sweden Innovation Day. Bodhami is selected to be one of the chosen start-ups at the International SCO Startup showcase event which hosted 8 Nations and also selected for INFINITY (India France embassy connect) as part of the Government of India – Indian Embassy Exchange
Bodhami's story has also been covered by Delhi Doordarshan, BBC World News, and All India Radio. Bodhami was selected as the Top 15 startups representing India at VivaTech Paris, Awarded seed grant of 10 Lakh from SPC Goa.
Bodhami is registered under Startup Promotion Cell, Government of Goa and mentored directly by Startup India and Invest India teams (Gov of India). We have been affiliated with startup promotion cell goa, IAAP and APCDA which are international bodies around career development.
We have been awarded the prestigious SKOCH award for the work done in rural development and career development, Tally MSME Champions of change award for the grassroot level work done in India in space of career counseling and skill development and IT Educator award by Government of Goa.
Bodhami founder and CEO, Damodar Pai Patnekar has also been awarded with the Eminent Goans achievers award by the Government of Goa for Bodhami's contribution in rural, women and youth development. Bodhami has also done a Government of Goa program through which more than 250 rural and semi urban schools were covered for career aptitude testing and career counseling across the state of Goa.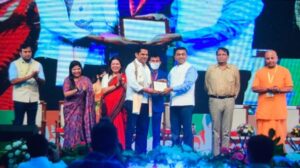 Bodhami CEO & Co-founder being felicitated by the CM of Goa